Why the Damaged Screw Removers of Tenyu Tools Co., Ltd. are the Best
You'll be able to cut a wide array of screws and bolts of any type and size
You can get damaged screw removers of different sizes
Your damaged screw removers will all be delivered on time
You can rely on Tenyu Tools to produce custom damaged or stripped screw removers!
You'll never regret working with us – all our screw removers are easy to use!
You can use our damaged screw removers on all types and kinds of drills!
You'll never have to worry about our tools' toughness and durability
You're going to receiver your orders properly packaged!
Tenyu Tools: Your Premier Damaged Screw Remover Manufacturers and Suppliers
Tenyu Tools' damaged screw removers actually meet the business needs of all our clients.
Here are some of the features and benefits you can enjoy if you choose Tenyu Tools' damaged screw removers:
All our removers are made from highly abrasion and corrosion-resistant material
You can expect our screw removers to remove even the most worn-out screws and bolts
You'll be able to use and mount our damaged screw removers to any drill you have!
To suit your needs, we have damaged screw remover sets and kits!
You can get our damaged screw removers at the best and most competitive prices!
These aren't the only features that our removers have, you can get and experience a lot more when you decide to work with us!
For years, Tenyu Tools Co., Ltd. has been delivering high-quality products at the most reasonable rates and prices.
Unlike other companies, we continuously strive to learn and gain more knowledge than the usual.
Thanks to our advancements and progressions, Tenyu Tools' manufacturing procedures beat all other companies and suppliers substantially.
Whether they need it in bulk or in wholesale, we get it to them swiftly and urgently.
So, if you are a distributor, a merchandiser, a retailer, or even a re-brander of power tools and accessories, you can definitely bank and count on us!
Reach Out to Us Now!
Wherever you are and no matter how big or small the quantity you need is, you can bank and rely on us here at Tenyu Tools Co., Ltd. to help you!
Visit our website and we'll send you a free estimate of the orders you need!
Work with us and get the best type and quality of damaged screw removers in the market!
Damaged Screw Remover Advantage
Features and Benefits
Applications of Tenyu Tools' Damaged Screw Removers
Damaged screw extractor can help you remove the stripped screws.
Damaged screw extractor can speed out remove the damaged screw.
Ten seconds can take it out!It is so fast!
Features and Benefits of Our Damaged or Stripped Screw Removers
For many years, Tenyu Tools' damaged/stripped screw removers are the favorite of manufacturers and suppliers worldwide.
Due to the durability and the ease-of-use, it's always seen as the best option to take.
Just like the 990+ clients that we have, you can trust us here at Tenyu Tools to produce the damaged screw removers that you want and need too!
You can use our damaged screw removers in removing wood screws, hex bolts, torque bolts, flat heads – to hex bolts, sheet metal screws, Allen bolts, and many more!
Damaged Screw Remover – The Ultimate FAQ Guide
Need a hand in selecting the best-damaged screw removers in the market today but don't know where to start? Don't worry – we got just what you need!
In today's guide, we'll help you know about these tools more and as a bonus lesson in the end, we'll educate you how you can choose the damaged screw remover manufacturer to work with!
What is a Damaged Screw Remover?
It's a type of tool that you can use to dig up and remove broken and damaged screws.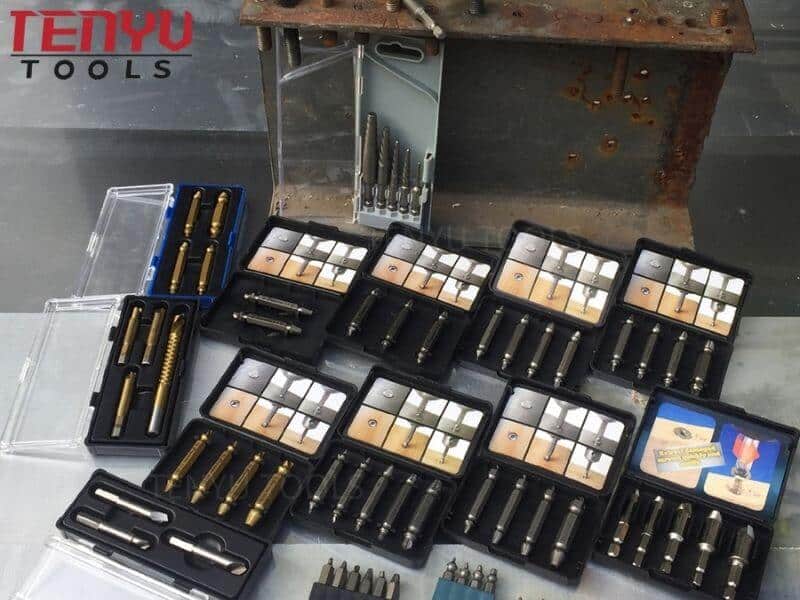 You can distinguish it from its design of a reversed-thread tapered drill bit.
Oftentimes, these removers are made out of hardened steel that's tough and durable to properly do its job.
Damaged Screw Remover vs. Screw Extractor: Are They The Same?
Yes, a screw extractor is the same as a damaged screw remover. You can interchange the two (2) terms and find both of them effective.

Screw extractor because its main function is to extract "damaged" or "broken" screws and remove them from where they're planted.
Damaged screw remover, on the other hand, because they're used to "remove" or "take off" damaged or broken screws.
How Do Screws and Bolts Get Damaged?
Before we get into discussing screw extractors deeply, let's first try to understand what makes screw and bolt heads damaged.

The most common instance is when the drill isn't at par with the size of the screw. However, there are also cases where:
Point of the drill bit is dull
The bit is running out of the slot
You're drilling it too fast
The pressure isn't at the right or the correct amount
These are the other reasons that cause a stripped or a damaged screw.
What Types of Bolts Can You Remove Using Damaged Screw Removers?
This will depend on the screw extractor you will be purchasing.
Some manufacturers and suppliers produce removers and extractors that are only capable of working on or removing specific types of screws.
With our damaged screw removers here at Tenyu Tools Co., Ltd., you'll be able to use it to remove many different types and kinds of screws! You'll be able to work on many types, which include:
Hex Bolts
Allen Bolts
Torx Bolts
Square Bolts
Flat Heads
Phillips
Round Bolts
Slotted Screws
One-Way
And Many More!
How Do You Remove Damaged Screws Using a Screw Extractor?
While there are several methods on how you can remove damaged screws, using screw extractor is the best, the cleanest, and the easiest.
Many people think that using a damaged screw remover is hard and complicated. However, it's actually just a simple thing to do and accomplish!
Here's how you can remove a damaged or a stripped screw using a damaged screw remover:
Make sure that you select the correct size of extractor bit in removing the damaged screw.
Secure it onto the drill chuck – start with the burnishing end facing out.
Change your drill driver's transmission to reverse.
Drill it with under low speed, just enough to engage the burnisher in the screw head. What this does is it cleans the top or the head part of the screw.
Dismount the drill bit and flip it with the extractor side facing out.
Place and position the extractor on top of the newly cleaned screw head.
While still in reverse transmission, carefully squeeze on the trigger and you'll see that it'll be unscrewed counterclockwise.
That's how fast and easy you can remove a damaged or a stripped screw! It wouldn't actually take you 10 minutes to do so!
Can Manufacturers Produce Custom Damaged Screw Stripper or Remover?  
Yes, there are certain damaged screw remover manufacturers and suppliers capable of designing custom damaged screw removers.
You can find out by contacting a manufacturer in question, asking them if they're able to do it.
NOTE: Before you say yes to a manufacturer, it is imperative to first know and understand what you're looking for. Be clear about what your goals are before you decide working with a manufacturer.
How to Remove a Stripped Screw From Plastic?
You will be able to remove a stripped or a broken screw from plastic that's drenched down in a deep hole by making sure that you're using the correct driver.
Check if it's a flat head, Phillips, cross, a hex, or any other type. Then, choose the appropriate screw extractor size and type.
NOTE: Refrain from using hammer drills and angle grinders because they can function too roughly for the plastic.
While you have everything in place, be gentle with the removal. Carefully insert the burnishing end and clean off the top of the stripped screw using the procedure we detailed above.
After that, flip the end to the extractor's end and remove the damaged screw slowly and surely.
There are some instances where you wouldn't be able to use the hole after you remove the screw. Why? – Because plastic is soft and it might be ruined or terribly damaged after the extraction process.
Where Can You Find the Best Damaged Screw Remover Manufacturers?
There are tons of damaged screw remover manufacturers and suppliers in the world.
And if you think that the best ones are in Europe, reassess and check out other options. You will be able to find Asian, specifically Chinese damaged screw extractors and removers that are as good, and even better than European companies.
Because of the many advantages and benefits, you can find in using these, you'll be able to save a lot of money, time, and effort in using their services.
You can even request to have custom-damaged screw removers manufactured!
Are Chinese Damaged Screw Remover Suppliers Trustworthy?
While many people think that Chinese products are all fake and low quality, it's actually the other way around.
Chinese manufacturers and wholesalers of power tools and accessories compete in a tight rope.
Therefore, they wouldn't just think about the price and the quantity – they have their focus more on the quality of the products.
What is the Regular Size of a Damaged Stripped Screw Remover?
The usual size of each end of damaged screw removers are 2.4 mm to 6.0 mm for the extractor end; and 2.1 mm to 5.2 mm for the burnishing end, respectively.
Of course, there are instances where that figure could be more or could be less, depending on what the business needs are.
However, you can actually avoid having trouble with the sizes by purchasing a kit or a set! That brings us to our next question, which is…
Can You Purchase a Damaged Screw Remover Set?
Yes, as a matter of fact, purchasing a damaged or stripped screw remover set is much more practical and economical.
Here are a few of the advantages of purchasing a damaged screw remover set:
Different sizes to cater to all of your extracting needs!
It'll come with a storage (the container that comes with it)
You'll see the sizes varying physically
It will save you time because you will have different sizes of the tools you'll need!
What's the Typical Hardness of Damaged Screw Removers?
The hardness of damaged or stripped screw removers and extractors will depend on its make.
For instance, if it's made from high-speed steel or HSS, then the typical hardness could lay in between 60 to 65 HRC.
On the other hand, if it were made out of Chrome Vanadium Steel, the hardness range would be different.
Therefore, if you're interested to know the typical hardness of damaged screw removers, you can directly ask and inquire about it with your manufacturer.
While it wouldn't have a substantial effect on your projects, knowing it could be imperative because you might end up completely damaging it, which can cause its life expectancy to be shorter.
Would Purchasing Damaged Screw Removers in Bulk Save You Money?
As the best and the most trusted damaged screw remover in the whole of China, we here at Tenyu Tools Co., Ltd. can say that choosing to purchase stripped or damaged screw removers in bulk or in wholesale will definitely save you up a lot of money.
For one, you'll be able to save up on shipping and freight costs, especially if you're going to order overseas.
Another would be because manufacturers can give you a ton of discounts if you purchase at a particular range (i.e., 1,000 to 2,000 pieces).
There are also instances where prices of products go up due to demand, inflation, and other stuff. But, if you purchase in wholesale, then you would be able to purchase it at a price that's stable and flat.
If the price goes up, then you've made yourself a good deal!
Where Can You Purchase Damaged Screw Removers Wholesale?
You can find a good amount of damaged screw removers in bulk or in wholesale from manufacturers and suppliers in China.
But, of course, that's not the only location wherein you'll be able to find damaged screw removers.
You can also purchase these from European manufacturers and suppliers – and even the ones you find in America, too!
Which Custom Damaged Screw Remover Can You Trust?
Out of all the different manufacturers and suppliers in the world, only Tenyu Tools Co., Ltd. can help you produce custom stripped or damaged screw extractors that have their own packages!
We can even manufacture and produce it plainly to help you if your business is rebranding!
Through the help and the utmost assistance of our Research and Development (R&D) team, we can craft up the exact and the accurate design of the damaged screw removers that you need!
All we'll ask from you would be a sketch or drawing of how you want your tools to look like!
Why is Tenyu Tools Co., Ltd. Your Best Choice in Damaged Screw Removers?
Across the entire country, other suppliers and manufacturers see us as their go-to manufacturer.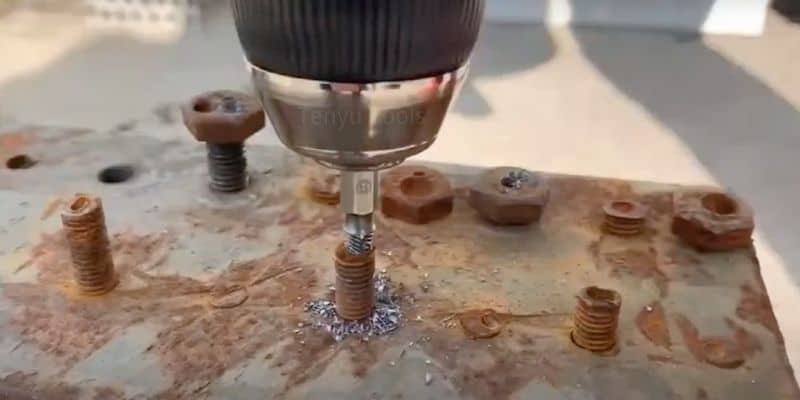 Thanks to the connections and the overall networks that our company has, we're able to source out some of the best-quality metals and steels that are used to make and manufacture damaged screw removers.
A lot of people think that our company produces low-quality tools, but would 990+ clients and businesses worldwide trust us to be their main manufacturer if we don't perform?
We are ISO, OSA, and CNAS certified
Our technical experts and workers have decade of experience in the industry
You can view and see our workshop or showroom online!
We are diversified, we can create whatever type of power tools and accessories you need!
All our machines are produced and manufactured by us
Need help? All your inquiries or concerns will be answered within 12 hours from the time of confirmation and acknowledgement
We're the manufacturer of some of the most notable laser welding companies in South Korea and Germany
World-famous brands such DeWALT, Stanley, Bosch, Makita, and others have partnerships with us!
With those points alone, you would already have an idea about the quality of the damaged screw removers we produce!
Wherever you are, you can send us a quick email and we'll be more than happy to help you!
Send us an inquiry via our website and we will be sending you a free quotation or a free estimate!
Minimum Order Quantity (MoQ) of Tenyu Tools
The minimum order quantity of Tenyu Tools Co., Ltd. when it comes to damaged or stripped screw removers is just at 100 pieces!
This goes for all the products, the power tools and accessories that we offer!
What's the Delivery Time For Wholesale or Bulk Damaged Screw Removers?
Akin to retail, you'll also be able to receive your packages within 2 to 3 weeks – even faster if you take express!
In case you're wondering about it being expensive, think again! We are partners with some of China's top freight companies and courier services!
That's why wherever you might be in the world, you can order from us and do business!
Contact us today and get all the stripped screw extractors you need at the best and lowest rates!