Why Pick Tenyu Tools Co., Ltd. as Your Diamond Cutting Tool Supplier?
You will hear about us and our work worldwide
Tenyu Tools Co., Ltd. adapts to the needs of your operations or business
Feel free to get an ocular inspection of our workshop and showroom online
You'll receive high-end and premium quality diamond cutting tools
You can have custom diamond cutting tools through our manufacturing
Tenyu Diamond Cutting Tools
It's been more than a decade at Tenyu Tools, It's still China's top diamond cutting tools supplier.
Aside from that, Tenyu Tools, being the best diamond cutting equipment manufacturer – will also assist you in your plans of creating or customizing a specific tool!
Why Choose Tenyu Tools' Diamond Cutting Tools?
Our diamond cutters are hard and are capable of cutting through almost any material
All our diamond cutting tools are polished and finished according to your instructions
Tenyu Tools' diamond cutting equipment are multi-purpose
Our diamond cutting tools are able to resist extreme heat and temperature
Before distribution, all our cutting tools are duly tested and inspected
We received zero complaints about the quality of our products and services from clients
Those are among the most common reasons why businesses choose Tenyu Tools! We never fail our clients in giving them what they want!
Applications of Our Diamond Cutters
Are you a business in need of diamond cutting equipment for your operations?
A diamond that has been cut from its edges using diamond cutters
Or are you a retailer looking to gain commission from selling our products?
Tenyu Tools Co., Ltd. is open and is willing to extend its products to new and existing business owners!
With our customized manufacturing procedures, we can aid you not only if you're a business needing our supplies – but also if you're an aspiring business owner.
Business Advantage of Choosing Tenyu Tools
For over 15 years, we've been continuously improving our craft, catering to the needs of a wide array of businesses.
Floor business and manufacturing space of Tenyu Tools
With Tenyu Tools, you get:
A minimum order quantity (MoQ) of just 100 pieces
Lifetime aftersales services
Complete and comprehensive support when it comes to installation
All your orders in a maximum timeframe of 21 days
Contact Us Now!
In case you're not able to find a reliable diamond cutting tool manufacturer, we're here for you. We possess relevant certifications that are accepted worldwide!
It doesn't matter where you are or where your business is – we're globally and locally certified in Europe, North and South America, Asia, Australia, and even Africa!
What are you waiting for? Reach out to us and work with the best and the most trusted diamond cutting tools supplier in China!
Get all the diamond cutters you need for a fair and considerable price!
When you experience working with us, we will, without a doubt, be your go-to supplier of diamond cutting tools!
Manufacturing Machine for Diamond Cutting Tools
Diamond Cutting Tools Using
Tenyu Tools' diamond cutting tools will always be within your expectations. Whether you need a 1/4" shank, a 1/2 " router shank, or any other size or kind of diamond cutter, we can help you!
Diamond Cutting Tools Supplier – The All-Inclusive FAQ Guide
The market for power tools and diamond cutting tools is so saturated; competitions are adding up every single day.
This makes it hard for everyone – even businesses to find the best manufacturers. That's what we'll be talking about in this guide.
Not only will we educate you about what this type of tool is; we'll also help you source out the best diamond cutter suppliers in the market.
What is a Diamond Cutting Tool?
The term already gives all of what it is out.
Tenyu Tools' top-of-the-line diamond cutting blade or tool
It is a cutting tool that contains diamond grains and segments integrated into the body of the cutter.
These diamond bits or segments are installed either via bonding or other fusion methods.
Are Real Diamonds Used in Diamond Cutting Tools?
This remains to be one of the most relevant questions about diamond cutters.
Synthetic diamonds – they're used to create diamond cutting tools
In your opinion, do you think real diamonds are what's used to manufacture diamond cutters?
The short and simple answer is NO; even the segments of real diamonds are expensive, it wouldn't hold much value especially since you'll only use it for cutting.
Another reason is because of the fact that these synthetic diamonds are particularly made for cutting/slicing.
What Materials Can You Cut With a Diamond Cutter?

A worker cutting glass using a diamond cutting tool
The hardness of diamond cutting tools allows them to cut or slice through many things, including:
Steel and Metal
Glass and Fiberglass
Concrete
Bricks and Tiles
Asphalts and Stone
Softer Diamonds
Diamond cutting tools suppliers don't agree with the idea of using diamond cutters for wood. Although wood is much softer and easier to work with, it can create rough edges.
How is a Diamond Cutting Tool Manufactured?
No, a diamond cutting tool is not an entire slab of synthetic diamond.
Polishing of the edges of a diamond cutter using a turning machine and a grit
In fact, its base is still made from stainless steel; the diamond part is just found on its edges.
Before we get into the process, though, you need to know that diamond cutting tools are made up of three (3) parts:
The Core
Bond
Diamond Particles and/or Segments
Here's the step-by-step procedure on how diamond cutting tools suppliers produce them:
The core is made and is formed, it's usually made up of stainless steel
After, that the bond is finalized. The bond is what holds the diamonds onto the steel core, creating and strengthening the blade
Then, using the bond, the diamonds are integrated and installed onto the edge of the core
After the diamonds are installed, the entire cutter is then treated so that the diamonds and the core integrate and strengthen as a whole
After it comes out of the furnace, it's inspected and duly tested
What is PCD Cutting Tools?
PCD, short for a polycrystalline diamond, has been used by many businesses as a tooling material.
Examples of PCD cutting tools and items
Moreover, PCD is just a special type of coating, which is a type of superhard material. It's usually made from high-temperature high-pressure integration or HTHP of synthetic diamonds.
What is a PCD End Mill?
The end mill is a type of a milling cutter that is a part of any milling equipment.
Examples of different sizes of PCD end mills attached and installed to milling equipment
You can use end mills in industrial milling applications and are used for subtractive processes.
PCD end mills are end mills that have the PCD coating. They are perfect and are considered the best for machining and for working on non-ferrous metals.
PCD vs. CVD Coating
We know that PCD is a polycrystalline diamond – and it's a type of coating for tools and materials. But, what is CVD?  

How CVD coating looks like to finished products and tools
CVD, short for chemical vapor deposition, is a coating procedure that utilizes chemical reactions that are thermally induced at the heated substrate's surface.
You'll use PCD for having sharp edges and thin coatings, while CVD is for heat resistance. PCD is best for tools that are for finishing, while CVD's main ideal purpose is for roughing.
Are There Advantages in Using Diamond Cutting Tools?
All diamond cutting tools manufacturers will always tell you about the benefits you can get; and yes, the positives outweigh the negatives.
Worker not having a hard time cutting through concrete using a diamond cutting tool
In fact, here are some of the major and the best advantages of using diamond cutters:
The longevity of the Tool
Diamond is known and is considered as the hardest and the toughest type of material. That's why you can count on it if you're looking for a tool that lasts long.
Precision and Accuracy and Cutting
Unlike regular and traditional saw blades, diamond cutting tools don't tear and rip materials.
What they do is they grind it down until it becomes thin enough for it to be removed. With this, you can expect diamond cutting tools to give you smoother and more accurate cuts.
Strength and Durability
Diamond cutting tools suppliers' secret in managing the durability is with the bonding tool.
This is particularly the reason why diamond cutting blades have stronger roots and loner lives.
Highly Reusable
One of the distinct things about diamond cutters is the fact that you'll be able to reuse them even when the plating is already worn out.
Yes, you can use the same core and body and have new diamond segments to coat it. It'll look good as new!
These are some of the benefits and advantages you can get in using diamond cutting tools. You'll be able to experience them firsthand if you choose to purchase one!
Disadvantages of Using Diamond Cutting Tools
These drawbacks wouldn't be promoted by diamond cutting tools suppliers.
But, it is important for you to know what they are, especially if you plan on using diamond tools.
Diamond tools can cause pollution for both your material and the working environment
Low and decreased thermal stability
Aren't eligible for high melting points and temperatures
Easy chemical reaction when it comes in contact with iron group elements
They're more expensive and costly than the usual cutting blades and saws
While these disadvantages seem rare, they're not in certain industries.
For instance, if your operations require high temperatures and melting points, diamond cutters might not be your best option.
Who are Known Manufacturers of Diamond Cutting Tools?
You can find a wide array of diamond cutting tool manufacturers in the market.
The most famous ones that have already established their presence include:
Telcon
Top Tech Diamond Tools
Kinik Company Ltd.
Taiwan Diamond Industrial Co., Ltd.
Ferro-Carbon Ent. Co., Ltd.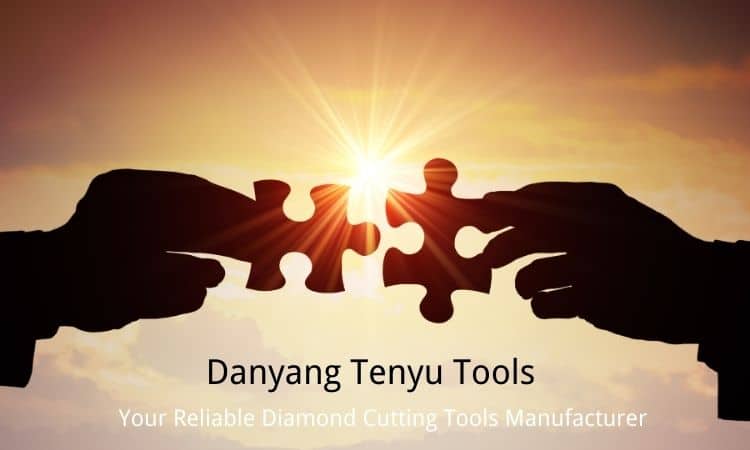 One problem you might have with them is that their rates and prices might not be cheap. Since they're already world-renowned, you can expect their rates to be quite pricey.
Can You Use Diamond Cutting Tools for Stone?
Yes, you can safely use these diamond cutters to work on or cut through stone.
A worker cutting stone easily using a diamond cutter
In fact, diamond cutting tools suppliers remind all clients that they can use diamond tools for:
Carbide alloys
Concrete
Asphalt
Glass
Ceramics
And other non-metallic materials
What's the Regular Price of a Diamond Cutting Tool?
The prices of the tools themselves vary. There are a lot of factors that dictate the price of a diamond cutter.
Size and diameter of the diamond cutting tool
Materials used to create the core
Type of process the item underwent
You will be able to see prices and rates between $0.5 to over $100. The maximum range, though, which is $100, is rare and is typically the type of tool to safely cut other diamonds.
The safest range of what the regular prices are of diamond tools are between $2 to $60 per piece.
You also have to take note of the fact that these prices are for bulk orders. Some diamond cutting tool manufacturers price their variants differently for single or bulk orders.
How Else Can You Use Diamond Tools?
Other than for precise and extreme cutting, you can use diamond tools in a wide variety of applications, too, including:
Diamond tools used for the manufacturing of optics and lenses
Manufacturing of optics
Glass drilling applications
Sharpening of other tools
Dressing of grinding wheels
You'll be able to find many diamond cutting tools suppliers that offer customizations of diamond tools, too!
What Should You Look for in a Diamond Cutting Tool Supplier?
You know the top and the most popular diamond cutting tool manufacturers – but are they the best choice you have?
The clean and organized manufacturing plant of Tenyu Tools Co., Ltd.
When it comes to pricing, the answer is no. Their products are priced differently because of their status in the market.
So how do you choose the best diamond cutting tool manufacturer?
Their Workshop and Manufacturing Plant
You would want to work with a manufacturer that owns their plant and workshop, right?
This, in fact, is one of the biggest hints that you're working with a legit supplier. By assessing their area, you'll be able to find out whether or not they're capable of producing what you need.
Research and Development (R&D) Ability
The next thing would be a manufacturer's Research & Development (R&D) team.
What procedures do they follow? Do they continuously innovate? Are they capable of providing the exact diamond cutting tools you need?
If a manufacturer's R&D is skilled, they'll get you what you need – faster and more accurately.
Certifications and Licenses
Before a manufacturer becomes certified, they'd need to undergo testing. These tests will determine their ability and skill in producing the tools they'll be offering their clients.
Production Capacity
How much would they be able to produce in a single day? Can they suffice the requirements you ask of them?
The capacity of their production is relevant, especially if you are to retail products. There are a lot of manufacturers that don't to full load on their production.
This is the reason why you need to ensure your diamond cutting tool supplier's production capacity firsthand.
Searching Reviews
Last but most definitely not the least is by searching for feedback and reviews.
This, by far, has been one, if not the most effective way in truly seeing a manufacturer's interior. Reviews are made by their clients – and from there, you'll be able to judge and see through your manufacturer's arsenal.
While a lot more ways are possible, these are the best and are considered as the most efficient ways in weighing a manufacturer's skills and capabilities.
What are Some of the Product Features of Diamond Cutting Tools?

Consistent diamond-etched edges, perfect for the slicing and cutting of masonry materials
Some of the most notable features diamond cutting tools have to include:
You can use it to enhance the beauty of your diamond (grinding)
Diamond cutting tools have an extreme level of effectiveness and efficiency
Diamond cutters have supreme levels of wear and temperature resistance
You'll be able to get above typical levels of satisfaction for cutting and grinding
And many more!
Which Diamond Cutting Tools Manufacturer Can You Trust?
Tenyu Tools Co., Ltd. is China's number one diamond cutting tools manufacturer. Being the top supplier of diamond cutters for more than a decade, you can absolutely count and bank on us.
We've worked with more than 950 clients and they continually trust and patronize our products and our services because of the level of skill and professionalism we have.
If you want high-quality diamond cutting tools at a fair and considerate rate, Tenyu Tools is your best option!
Tenyu Tools Co., Ltd. as your Diamond Cutting Tools Supplier
There are a million reasons why you should work with us when it comes to manufacturing your diamond cutting tools.
We offer complete and comprehensive diamond cutting tool manufacturing procedures
The most common include:
Fast and urgent delivery (within 30 days; 21 days at the maximum)
All diamond cutting tools are duly inspected and assessed
You won't find any defects and abnormalities with our tools and accessories
We have an excellent R&D team
You can get a comprehensive and excellent aftersales service from us
If you're wondering where you can get premium-quality diamond cutters, don't hesitate to work with us here at Tenyu Tools Co., Ltd.!
You won't regret your decision of choosing the best supplier of diamond cutting tools in China!