Tenyu: Your Leading Saw Blades Manufacturer & Supplier
You get high-quality saw blades to meet different applications.
You get to choose from our collection of saw blades made from different materials.
You will enjoy the full benefits and advantages of using our primary products.
You will experience the cutting-edge technology that we are using to craft our saw blades.
You get a guarantee that your purchase has no defects and flaws.
You are doing business with the leading saw blade supplier in China.
Tenyu Tools can handle maximum orders to help you grow your business.
Send your request or inquiry if you want a customization of saw blades.
Using the right saw blades can help you do the work more easily!
Your Trusted and Reliable Saw Blades Manufacturer Tenyu Tools Offer Industrial Quality Products
Innovation. Precision. Excellent Service.
These are the foundation of Tenyu Tools' commitment to manufacturing the highest possible quality saw blades.
A saw blade is a toothed cutting element that makes hand and stationary tools perform superbly.
It is used for cutting woods, metals, plywood, plastics, tiles, and other types of materials.
You can also find blades for special purposes like stone sawing, veneer making, and gang sawing.
There are key features that you need to consider when choosing a saw blade.
The number of teeth that determines the quality of output
The tooth configuration that effectively cut particular materials
The angle of attack or inclination angle of the tip
The materials to be cut
The "kerf" or thickness of the saw blade
The diameter and cutting depth of the blade
The RPM or revolution per minute that is relative to the blade's diameter
The material of the tip or edge
The coating of the tips or edge
Send inquiry now! we can reply in 24hours!
Manufacturing Machine for Saw Blade
Tenyu Tools provide different kinds of high quality saw blades
Saw Blade: The Ultimate FAQ Guide
The performance of the saw is only as good as the saw blade you choose.
Even the most powerful power saw is dependent on the saw blade.
So, picking the right saw blade is crucial to the success of woodworking or metal-cutting projects.
How do you start shopping for the ideal saw blade to match your needs?
You better check out this ultimate guide to help you find a high-quality saw blade.
It provides comprehensive information on how to find the perfect saw table to get the job done.
This answers your questions and makes you familiar with the key points of a high-performing saw blade.
What is a Saw Blade?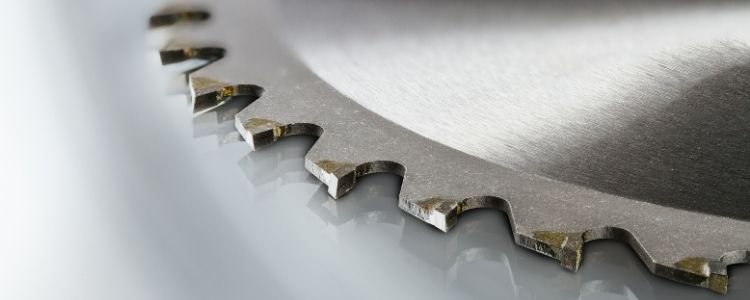 A saw blade is your best ally in creating the right cuts for a variety of tasks.
It is a replaceable toothed cutting element that power tools and hand tools need to cut materials.
It can cut through the material and delivers your desired cuts.
Saw blades are designed to deliver the best cutting operation outcomes for the following:
ripping lumber
crosscutting lumber
cutting melamine
cutting plastics and laminates
cutting veneered panels and plywood
cutting non-ferrous materials
The blade features a toothed metal disc design with an arbor bore or a hole in the middle.
You use the hole to fix the blade to the saw.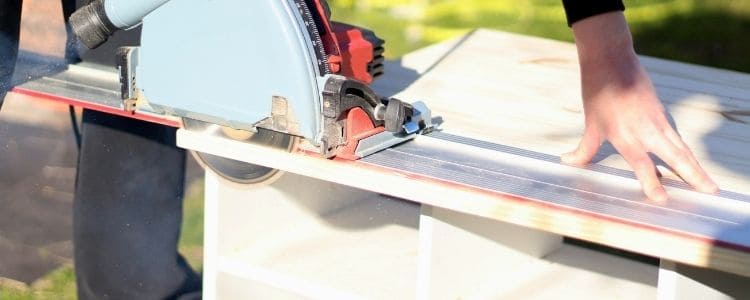 How Do You Classify Saw Blades?
Saw blades have distinct characteristics and features.
Manufacturers of saw blades produce different types and models for a variety of applications.
Tenyu Tools, a saw blade manufacturer in China, has a wide range of premium quality blades to choose from.
Saw blades are classified into:
Circular saw blades are used to cut wood materials and wood composites.
They come in three styles- crosscut, rip, and combination.
The distinction lies in the gullet size and tooth form.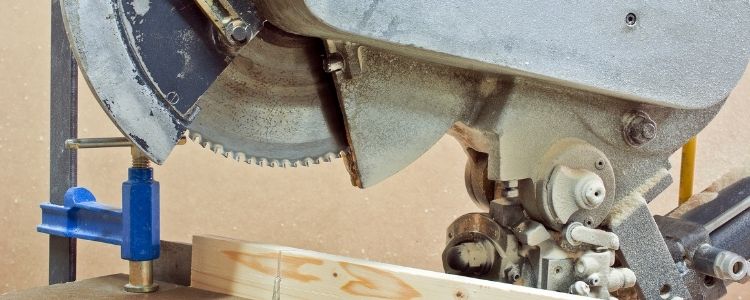 Crosscut blades
They usually have 40 to 80 teeth.
They deliver clean cuts across the face of the board or the woodgrain.
The gullets are shallow to keep the feed rate slow.
The teeth switch between right-handed and left-handed bevels.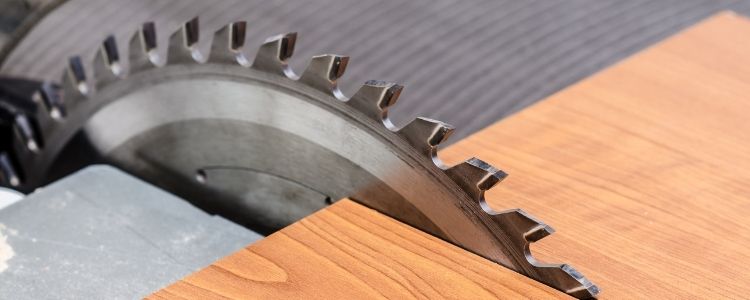 Rip-cut blades
They have 16 to 40 teeth.
They cut aggressively.
They cut along the length of the board or the woodgrain.
The gullets are deep.
The teeth are usually flat-topped.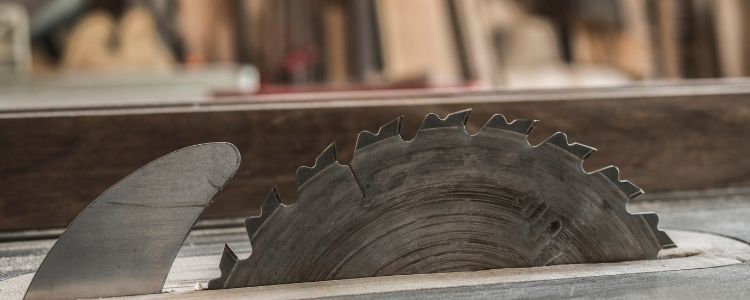 Combination blades
They have alternating and flat-top bevel teeth with shallow and deep gullets.
They deliver a fair cutting speed and finish.
They create both crosscuts and rip cuts.
Other blades
Plytooth or plywood blades feature 100 or more fine teeth.
They are designed to produce a clean finish with minimal splintering.
Framing blades have 24 teeth.
They are perfect for rough carpentry and other tasks that require greater speed.
Hollow-ground blades have a thin body, much thinner than their teeth.
The design is intended to protect the saw blade from becoming pinched.
2. Continuous-Rim Blades
The blades are diamond-edged, so they are often called diamond blades.
The diamonds are affixed on the saw blade edge to cut through tough materials.
They are designed for slate and tile materials.
Continuous-rim blades work for both dry-cutting and wet-cutting applications.
They deliver a very clean finish.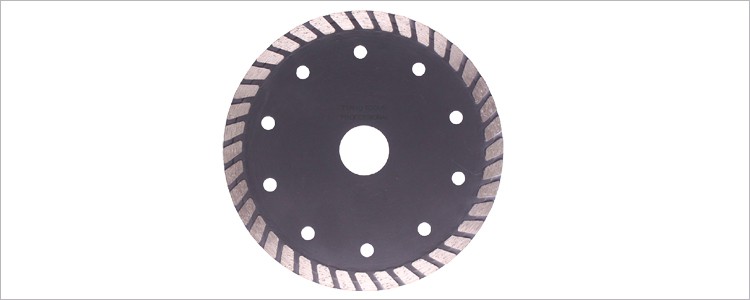 These blades have a diamond edge too, but the rim is divided by gullets.
The segments of this saw blade are intended to help you make the most aggressive cuts.
The blade can handle brick, concrete, and other rigid materials.
It cuts quickly but leaves a rougher finish for both dry or wet applications.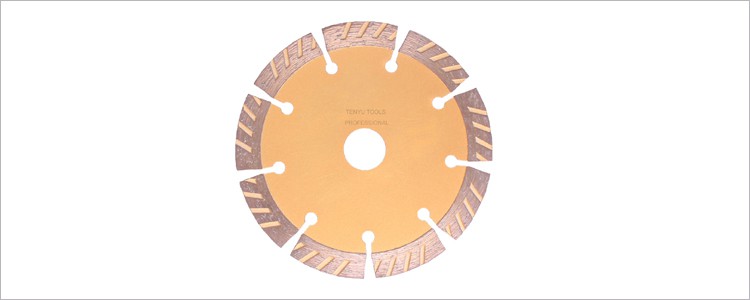 Like continuous-rim blades, these blades have a diamond edge finish.
The difference is the serrated rim that helps you cut bricks and concrete more aggressively.
They do not leave a clean finish, and some models suit a dry application or wet application only.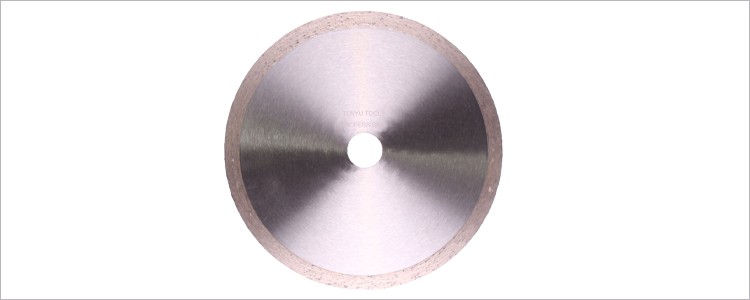 5. Abrasive Blades
These blades cut through brick, concrete, aluminum oxide, and silicon carbide.
Some abrasive blades fit metal-cutting circular saws.
They do not have teeth.
6. Stacked Dado Blades
This saw blade comes in a set of two circular blades with several shims and chipper blades.
It works by combining or stacking the blades, shims, and chippers.
The combined power helps you cut grooves with different widths.
The stacked blades are for table saws only.
In What Type of Job Are You Going to Use the Saw Blade?
Are you going to use it exclusively for cutting across the wood grain or crosscutting?
Is it for cutting with the grain or ripping?
Or do you need a saw blade to create all types of cuts?
The type of job is a determining factor when buying a saw blade.
There are blades for multifunctional and special types of saw.
Saw blade suppliers offer a lot of designs, sizes, and classifications to match your needs.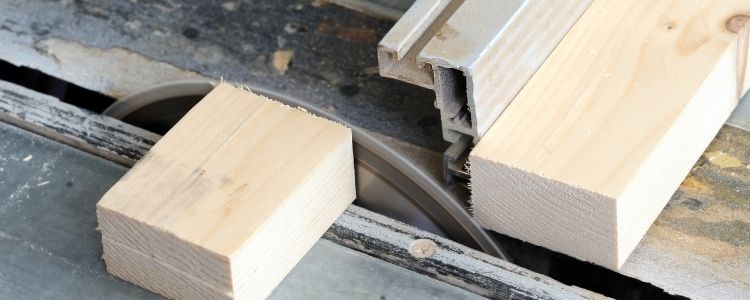 For woodworking and other applications
Circular saw blades are your perfect choice.
For aluminum, plastic, and other materials, find a multifunction circular saw blade.
For multipurpose applications
Bandsaw blades cut almost all types of materials like aluminum, steel, wood, plastic, foam, and non-ferrous alloys.
This type of saw blade features continuous, welded loops that create custom sizes and stocks.
It has teeth on one side, and its long band is welded to form a circle.
The blade creates a narrow kerf and is capable of making contoured cuts.
Depending on the application, it can be used dry or lubricated.
Handsaw blades are used by special-purpose saws like bow saws, hacksaws, coping saws, and more.
You can use this kind of saw blade for designated tasks.
For demolition and pipe cutting
Reciprocating saws are portable units used for demolition and pipe cutting purposes.
They mimic the hand saw motion and cut in a single direction.
Jigsaws are ideal for cutting thin wood to make fine, contoured cuts.
They are typically made from high-speed steel, carbon, or bi-metal.
Jigsaws are ideal for cutting thin wood to make fine, contoured cuts.
They are typically made from high-speed steel, carbon, or bi-metal.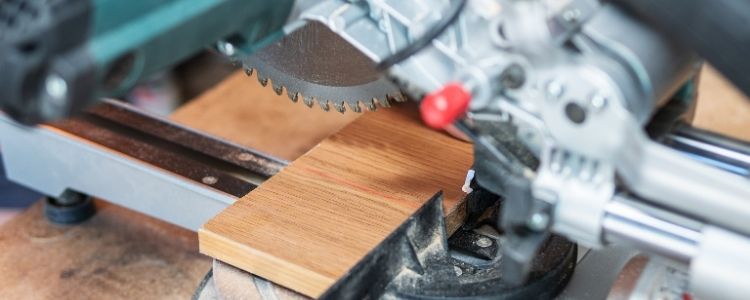 What Materials Will Your Saw Blade Be Used?
Are you cutting a single type of material or a wide range of materials?
The material you use narrows down the option of finding the right blade.
Many suppliers and manufacturers, like Tenyu Tools, offer blades for specialized industries and applications.
They work for veneer making, gang sawing, and stone sawing.
The right blades are optimized to perform the operation and produce the best outcomes.
If you use the wrong type of saw blade for your tool, the results are compromised.
Moreover, it might endanger your safety or break the material.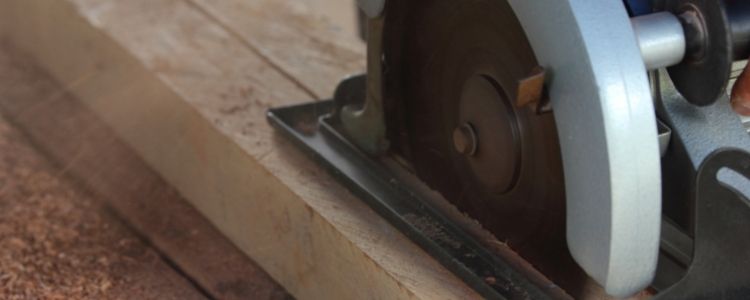 How to Choose the Right Saw Blade?
The performance of the saw blade is determined by the following:
Number of teeth
The number of teeth of the saw blade determines the cutting action.
Fewer teeth deliver more aggressive and quicker cuts.
But they produce a rough finish.
Rip blades have fewer teeth that cut with the grain and remove more material.
They are designed for quick and efficient removal of materials.
This type of saw blade can move through the wood with lesser effort.
It brings clean cuts with minimal scoring.
More teeth help you make smoother and cleaner cuts.
However, this type of saw blade gives a lot of tear-out.
Also, the smaller tooth gullets remove lesser material per cut.
The crosscut blade features more teeth.
It cuts smoothly across the grain of your wood material.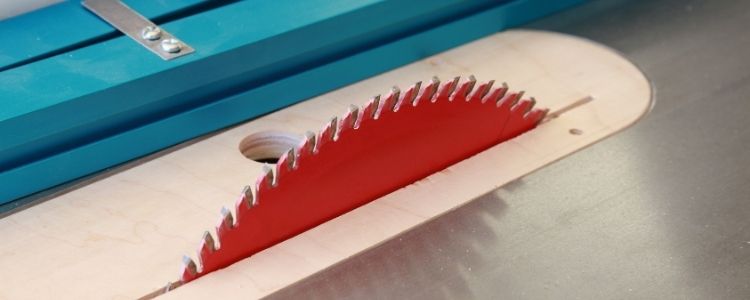 Tooth configuration
The shape of the tooth and how they are grouped also determine the saw blade performance.
This configuration optimizes your ripping, crosscutting, and working on different materials.
The common types of tooth configurations are:
The teeth blades are ideal for ripping soft and hardwoods.
They help you cut and rake materials out of the cut efficiently and quickly.
Alternative Top Bevel (ATB)
The alternate teeth configuration between the right-and-left bevel yields smoother cuts.
The alternating beveled teeth act as a knife-like edge on both sides of the blade.
They work best if you are crosscutting veneered plywood and natural woods.
The teeth arrangement is in groups of five (one FT and four ATB).
There is a large gullet between the groups to ensure excellent ripping and crosscutting actions.
High Alternate Top Bevel (Hi-ATB)
This configuration enhances the knife-like action of the blades' edge.
It is a perfect choice if you are cutting materials with a melamine surface.
This type of saw blade also delivers extra-fine crosscutting results.
The configuration has an alternating higher 'trapeze' tooth and flat 'raking' tooth.
TCG blades excel at cutting laminates, plastics, MDF, and other tough materials.
They are also good for your non-ferrous metal cutting saw blades.
Tooth Angle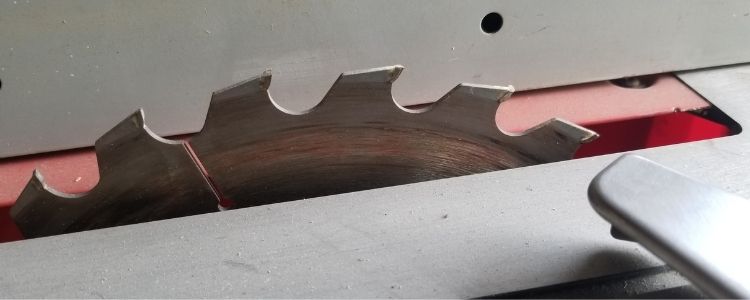 The hook is the angle of the tooth in the blade's centerline.
There are two types of hook:
A positive hook angle is when the teeth of the blade lean forward.
Negative hook angle means that the teeth are opposite to the blade's rotation or are angled back.
The saw blade becomes more aggressive as the positive angle increases.
When the hook angle is negative or low, the feed rate becomes slower.
This inhibits the ability of the saw blade to "climb the cut material."
A high positive tooth angle of 20-degrees, for instance, gives a faster deed rate and aggressive cut.
A table saw for ripping lumber requires a blade with a high hook angle.
You need a blade with a negative or very low hook angle for sliding compound miter saw or radial-arm saw.
This helps you slow down the feed rate and binding.
It also inhibits the blade's tendency to 'climb' the material's surface.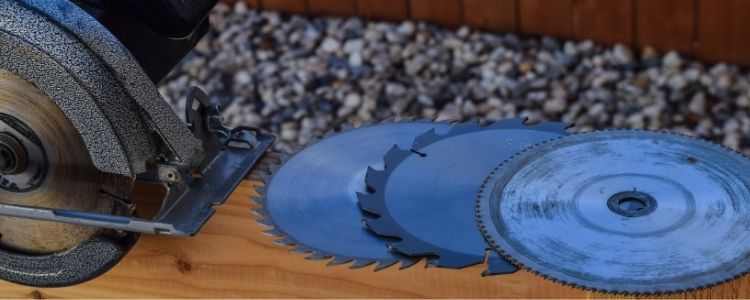 Teeth Quality
The quality of saw blade tips influences how it cuts the materials.
It is an indicator of how long the saw blade will stay sharp.
It also gives you an idea of the number of sharpening you need to do to sustain the sharpness.
A good starting point is a C3 grade carbide-toothed blade.
It has a thickness that allows you to re-sharpen the teeth many times.
Carbide is specially formulated for the blade tips.
To attach carbide tips to the steel plate, the tri-metal brazing process is used.
The process wedged the copper alloy layer between the silver alloy layers.
The result gives you a saw blade with high-impact resistance and extra flexibility.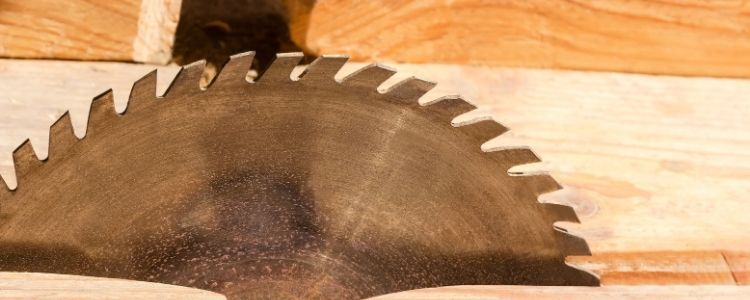 Gullet
Each tooth has a space in front that is called a gullet.
It allows an easy chip removal.
A deep gullet collects more chips during the sawing operation.
The gullets in crosscutting blades are small because the chips are smaller and fewer.
The gullets in ripping blades are deep to handle the bigger size and faster feed rate.
For combination blades, the gullets are designed for crosscutting and ripping purposes.
Kerf Width
Kerf width refers to the slot the saw blade cuts in your material.
It is classified into a thin-kerf and full-kerf varieties.
The thin-kerf has a thickness below 1/8-inch or about 3/32-inch thick.
It is designed by manufacturers for less than 3 horsepower portable and contractor model table saws.
It needs lesser power to get the job done but removes lesser material.
This type of kerf allows you to use a lower-powered saw at an appropriate feed rate.
This prevents bogging down that can cause excessive friction, resulting in distortion or burning the surface.
A full-kerf blade has a 1/8-inch slot or thickness.
It performs excellently if you are using a saw with a 3 horsepower (or higher) motor.
It has a more rigid and thicker plate, preventing vibration that may affect the outcomes.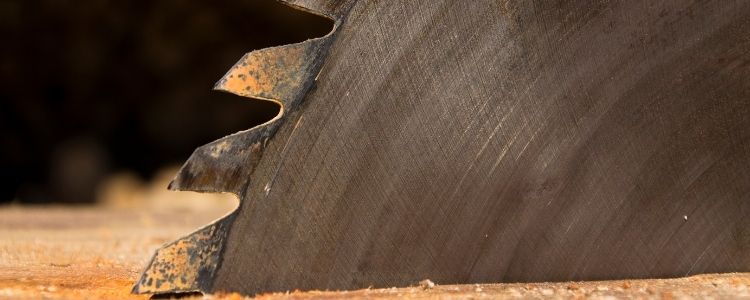 What is the Best Saw Blade Material?
When shopping for a saw blade, it is important to consider the material of the plate and teeth.
This is because the blade makes the cut and not the saw itself.
If you want superb cutting performance, do not scrimp on buying the best saw blade.
Most thin blades are cheap but are not reliable during the process.
They easily flex or bend and do not yield precise cuts.
High-quality and durable blades are usually crafted from a laser-cut steel material with carbide tips.
Other popular blade materials are high-speed steel or carbon and bi-metals.
Global suppliers and manufacturers like Tenyu Tools offer saw blades with thick carbide tips.
They have a 7-inch 60 Teeth Tungsten Carbide Blade that can help you in wood cutting.
For grass cutting tasks, try their highly-popular Carbide Tip Brush Grass Cutter.
Tenyu Tools offer wholesale saw blades for importers, domestic markets, and wholesalers.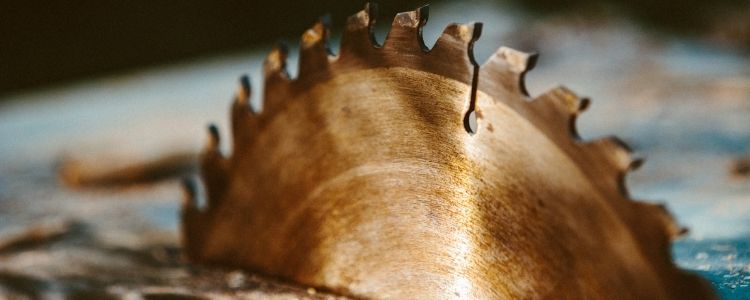 Carbide is a hard compound material that can be combined with another metal like Tungsten.
Tungsten has the highest melting point of over 3400 ° C.
It offers a tensile strength of more than 1650 ° C and lower vapor pressure.
Tungsten carbide blades deliver more RPM capacity and can be used for most materials.
Carbide blades are friction, scratch, rust, and wear-resistant.
They are unalterable and offer a long service life.
The sharpness can last 20-50 times longer compared to steel blades.
This increases your productivity level by 10 to 20%.
The only downside is the difficulty to be sharpened, but using a sharpening machine does the trick.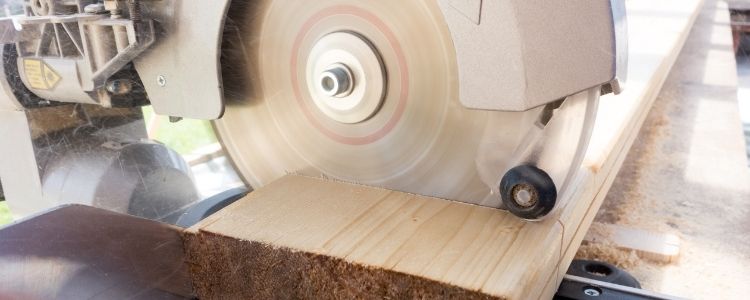 Undoubtedly, the diamond is the hardest metal.
Manufacturers and suppliers across the globe offer saw blades with diamond tips.
It gives the blade the strong ability to cut various abrasive materials.
This saw blade is your smart choice for cutting concrete, asphalt, stone, ceramics, and masonry blocks.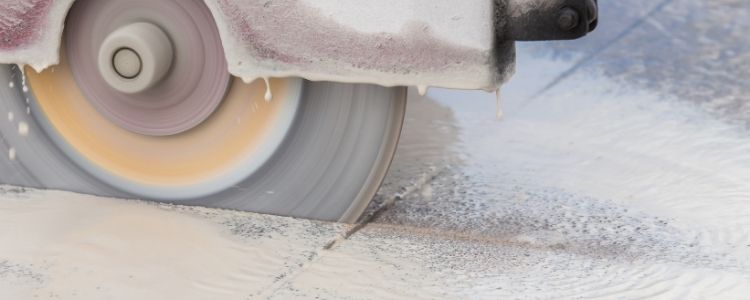 Is the Saw Blade Coating Important?
The coating material of the saw blade is another vital factor that determines its durability.
The blade coating is regarded as an "anti-friction coating."
The coating gives the blades a longer life span and rust-resistance.
It also prevents the saw blade from excessive heating and allows you to run the saw longer.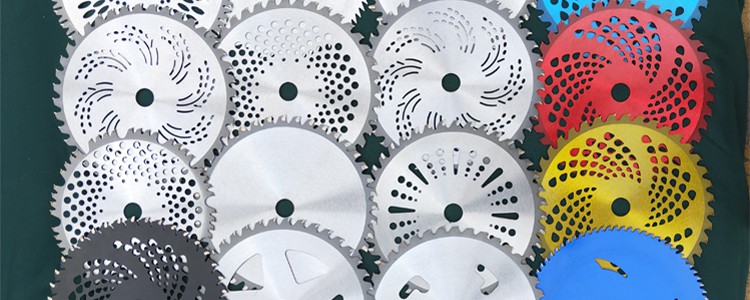 The coating can be:
Platinum
Titanium
Chrome
Teflon
Iridium
How to Find the Right Saw Blades for Saws?
Every saw blade is designed to work with a specific type of saw.
It is important that the blade fits the saw and the material to get the desired cuts.
Generally, the following rules are:
Circular saw blades are for metal-cutting chop saws or abrasive saws.
A 14-inch silicon carbide-tipped blade or an aluminum oxide abrasive blade is perfect.
Smaller blades with carbide tips are ideal for handheld circular saws.
Blades with 4 ½ inches to 7 ¼ inches diameters are categorized as small.
Carbide-tipped blades that are 10 inches or 12-inches in diameter suit compound miter saws and table saws.
A 7-inch or a 10-inch diamond saw blade is a good match for tile saws.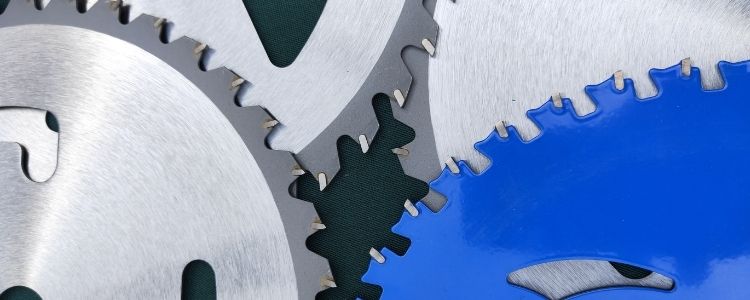 Why Is Finding the Right Diameter of the Saw Blade Essential?
The diameter is responsible for the depth of your cuts.
Bigger blades are designed for your heavy-duty tasks.
Smaller blades are crafted by manufacturers to suit more compact saw blades.
Blades with large diameters deliver lower RPM capacity than those with smaller diameters.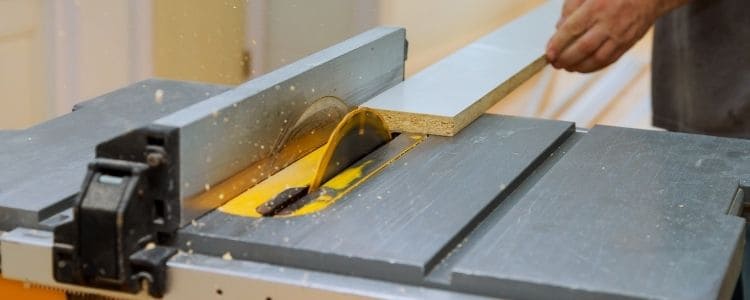 Here are some examples:
A 80 millimeter blade generates 23,800 RPM
100 mm – 19,000 RPM
210 mm – 9,000 RPM
250 mm – 7,600 RPM
300 mm – 6,300 RPM
350 mm – 5,400 RPM
400 mm – 4,700 RPM
450 mm – 4,200 RPM
500 mm – 3,800 RPM
How Do You Maintain and Clean Saw Blades?
There are several ways to keep the saw blade in the best working condition and extend its life.
Clean the saw blade often to eliminate accumulated grime, sap, pitch, and other dirt.
Use a gentle solvent and a nylon or brass brush to expose the gullets and refresh the teeth.
Do not use a wire brush to avoid serious damage.
Some blades have a delicate coating, so before you apply a solvent, try it first in a tiny area.
Lubricate the blade regularly.
Lubricating oil protects the metal of the saw blade from rust buildup.
It also sustains the ability of the blade to perform cleaner cuts.
Keep the saw blade away from areas with excessive humidity and moisture.
This prevents a pit or rust formation.
Avoid overheating by keeping the saw blade too low when you are cutting hardwood.
It helps you prevent a thermal crack in the carbide.
A small crack can cause tip fragments to fly backward and harm you.
Do not rest a circular saw blade on a cement or steel surface.
The metal on cement or metal on metal connection dulls the saw blade as it chips the top grind.
Set it down on a plastic or plywood surface.
Use a proper container to store a saw blade collection.
Heavy cardboard or plywood with bolts is good.
This prevents the blades from rubbing one another, resulting in chipping.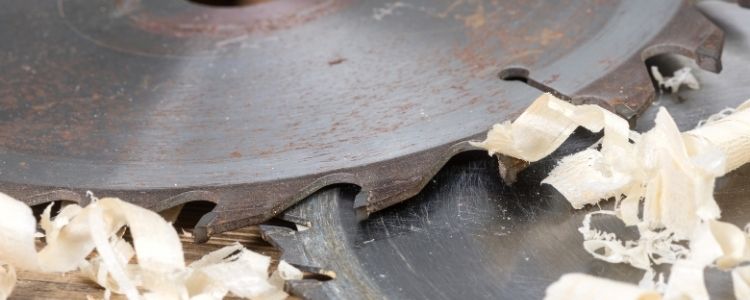 When Is the Proper Time to Replace a Saw Blade?
You need a high-performing saw blade to ensure a quick and efficient cutting process.
A dull blade will keep you from completing the task on time.
The proper time to replace and dispose of the saw blade is when:
You are pushing the saw through the wood, and the saw blade does not work smoothly like before.
You have excess wood chipping in the blade.
You observe that the saw blade has rounded over.
You find out that the nice sharp edge is gone.
Features
Each blade is designed to suit a particular type of saw.
Using the right saw blade is vital to the performance of the tools.
Unmatched blade compromises the outcomes and success of the process.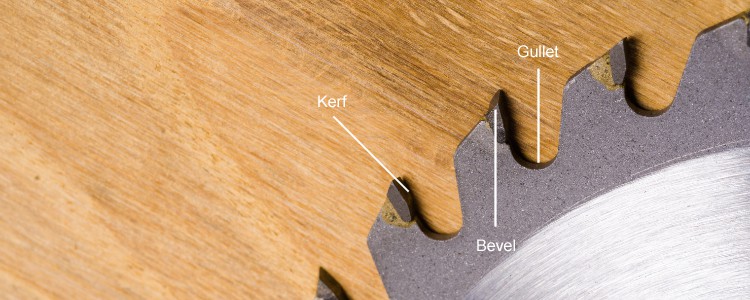 The most common and widely-used tip materials are diamonds and carbide.
Diamond is known for being the hardest metal, so it's natural to be favored by manufacturers and suppliers.
Carbide tipped blades are also popular because of the following benefits:
Resistance to temperature differences
Resistance to friction
Resistance to wear
Non-corrosive
Scratch-proof
Unalterable
Long-lasting and durable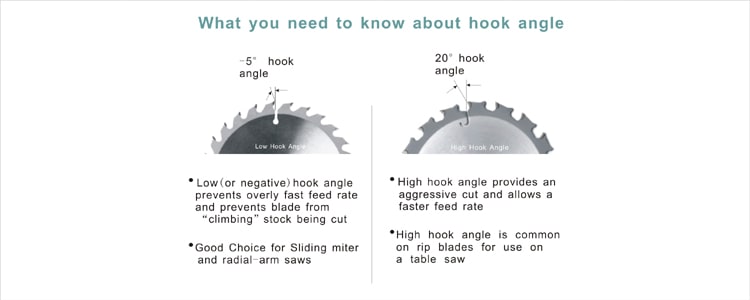 Product Applications
Knowing the proper saw blade for each type of application is crucial to your operation.
Whether it is intended for industrial, commercial, or residential projects, the right blade is the key to successful cutting.
Some blades are used for general purposes and can handle various materials.
Others are specifically made to perform a certain purpose.
It is also important to buy premium quality blades that can give you long years of usage.
The proper use of blades and regular cleaning is also necessary to extend their life span.
Related Products Mention
For your wholesale saw blades orders, don't hesitate to send Tenyu Tools a message.
This China-based manufacturer-supplier of power tools accessories offers a wide range of saw blades.
Also available are different kinds of Drill Bits, Grinding Wheel, Screw Extractor, Hole Saw, Nibbler Cutter, and Tap and Die.
Call to Action
Are you interested in doing business with Tenyu Tools?
Enjoy the amazing deals they give for their growing number of wholesalers, importers, and suppliers.
Don't wait too long. Call Tenyu Tools now!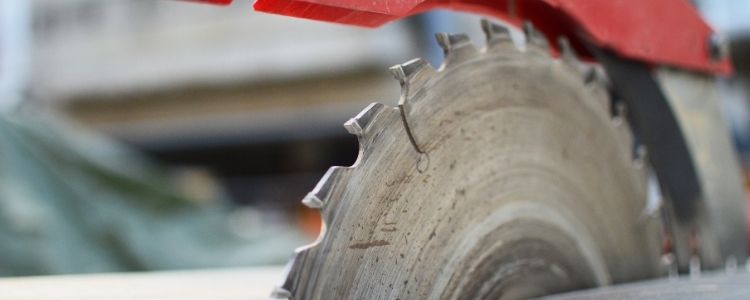 Are You Interested in Starting a Saw Blade Business?
If you are here not just to get acquainted with a saw blade, but also want to know where to buy blades, Tenyu Tools got you covered.
This China-based company is the leading supplier and manufacturer of high-quality and affordable power tool accessories.
They provide wholesale deals with importers, suppliers, and distributors in North America, Europe, Asia, and more.
Tenyu Tools manufacture different kinds of circular saw blades for wood cutting, metal cutting, and other applications.
If you are interested in doing business with Tenyu Tools, don't hesitate to express your intention.
Send an email or call the customer service line to discuss the idea of importing their products.
We hope that you get what you wanted by reading this comprehensive guide.
Do you still have some questions about the saw blade? Feel free to contact Tenyu Tools.
Your Best Saw Blades Supplier in China – TENYU
Send inquiry now! we can reply in 24hours!