Why is Tenyu Tools the Best Concrete Drill Bits Manufacturer?
You can purchase different kinds and types of concrete drill bits from us!
You will never worry about the durability and the lifespan of our masonry drill bits
On a single purchase, you can order from us only at an MoQ of 100 pcs!
You can purchase concrete drill bits have undergone exclusive heat treatment
You can choose from a wide variety of colors for your concrete bits
Your concrete drill bits are compatible with a lot of machines and power tools
You'll be able to work on concrete, stone, screed, bricks, asphalt, and many more!
You can choose to purchase a single concrete drill bit or a concrete drill bit set
Tenyu Tool is A Leading Global Manufacturer of Concrete Drill Bit
You can use Tenyu Tools' concrete drill bits for drilling holes through stone, concrete, and other types of masonry; boring holes on soil; create a bore on a thick piece of concrete; and many more!
Tenyu Tools Co., Ltd. can be your go-to concrete drill bits manufacturer, for we're able to manufacture hundreds – to thousands of pieces daily!
Even if you're looking for a custom concrete drill bit, we'll be able to help you!
Advantages of Working With Tenyu Tools Co., Ltd.
We were able to help 960+ clients in our time in the industry
We're trusted by foreign companies worldwide
We deliver customer experience seriously
We offer an extreme level of aftersales services
We have a regular response rate of 12 hours for all your queries and concerns
Want to work with the best concrete drill bit manufacturer in China? Don't hesitate to give us a shout here at Tenyu Tools Co., Ltd!
Our doors are open to all types of businesses and industries! Akin to the 900+ clients we have, you can consider Tenyu Tools as your go-to supplier of concrete drill bits!
Benefits and Pros of Our Concrete Drill Bits
Disregarding our capability of offering custom concrete bits, what are the pros of choosing us as your concrete drill bits manufacturer?
It's cost-efficient – you'll be able to save a lot of money from repairs and replacements
Our concrete drill bits have wider and more efficient teeth for faster material removal
You have the option of copper brazing the material for excellent heat resistance
Our concrete drill bits have carbide-tipped teeth to stay sharper for longer periods of time
All your workers will be safe, thanks to the round shank, which is compatible with many power tools
When it comes to choosing the concrete drill bits manufacturer to work with, you will never fail if you choose us here at Tenyu Tools Co., Ltd.
We're capable of offering a wide range of concrete drill bits – from regular single flute bits, bits with double flutes – even a U-tipped flute!
Tenyu Tools Co., Ltd. is known to be the best because of the flexibility and the versatility of our concrete drill bits!
It has these types
SDS Drill Bit
Hammer Drill Bit
SDS Chisel
Masonry Drill Bit
Tile Drill Bit
Concrete Drill Bit refers to a drill bit that can drill holes in concrete, masonry, marble and any other materials.
Concrete Drill Bits Manufacturers – The Ultimate FAQ Guide
Concrete drill bits are tools that you can't just purchase from the street. That is the reason why building connection with a solid and a trustworthy concrete drill bits manufacturer should be in your priority.
In this guide, we'll help you with everything when it comes to concrete and masonry bits.
We'll be tackling this comprehensive post about understanding more what concrete drill bits are; finding the right suppliers and manufacturers for the job; and where you can find the manufacturing company you can fully trust.
What is a Concrete Drill Bit?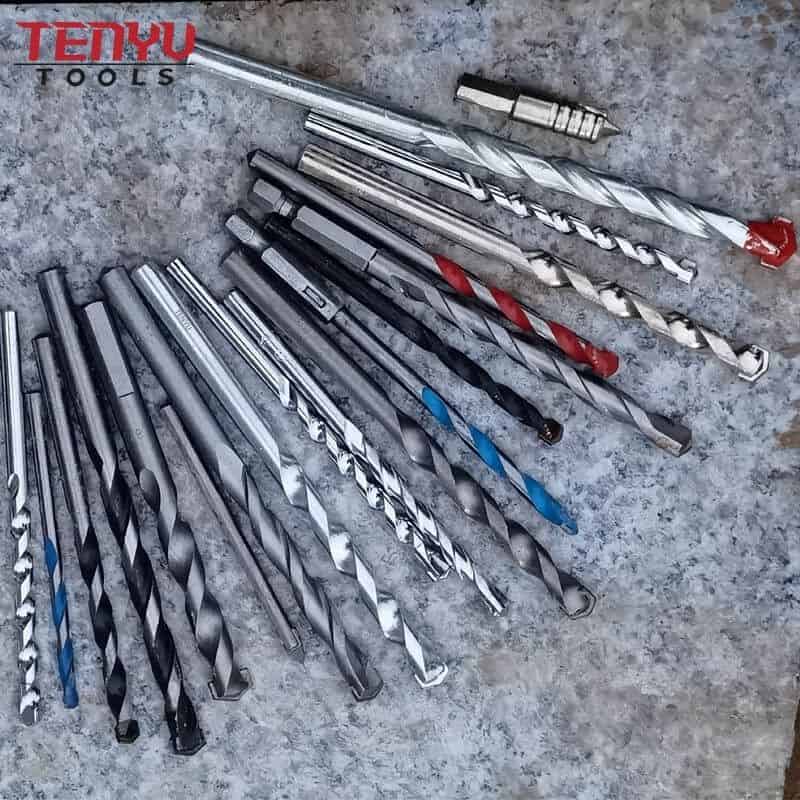 In the simplest terms, it's a type of bit that you can use to bore through concrete, brick, stone, and other types of masonry.
They're specialized tools that are specific for working on thick stones, asphalts, and concrete.
Is a Masonry Drill Bit the Same as a Concrete Drill Bit?
Yes, masonry drill bits and concrete drill bits are the same.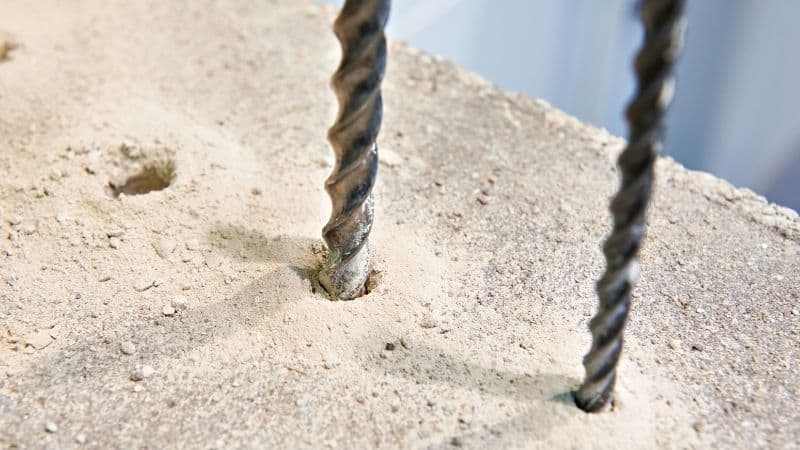 Don't be confused if you run across both terms as they are similar.
Can You Use a Regular Wood Drill Bit on Concrete In Place of a Concrete Drill Bits?
Some say that you can, but it would be extremely difficult to do so.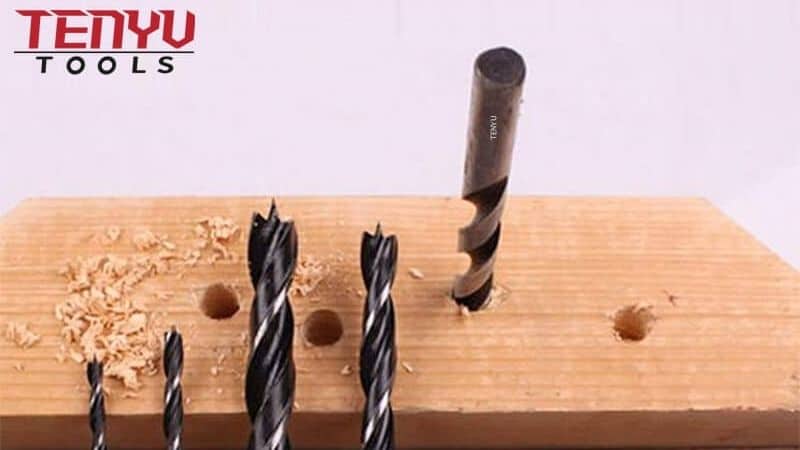 However, most experts believe that you CAN'T USE A REGULAR DRILL BIT FOR CONCRETE.
The reason is because regular drill bits work by shearing thin pieces of material in each rotation. You can think and imagine it as two (2) pieces of knives peeling a thin portion of material.
Concrete is not something you can shear or peel – you need to grind and pound in order to get through. In addition to that, concrete, as well as other types of masonry, are so abrasive that using an incorrect drill bit can destroy the edges even only in a few rotations.
The reason why concrete or masonry drill bits are existent because they are extremely hard; they're able to grind and crush each particle.
How Do You Determine a Concrete Drill Bit From a Regular Drill Bit?
You might think that there are not a lot of ways on how you can determine a concrete drill bit from a regular type of drill bit.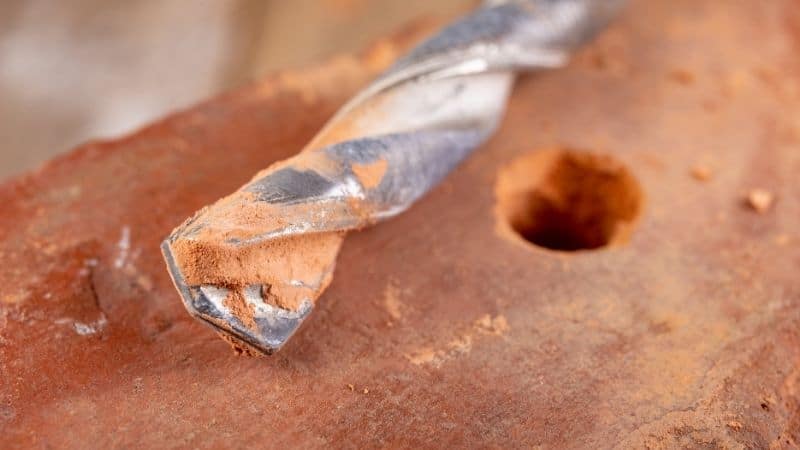 But, in reality, you can find quite a lot of differences between the two.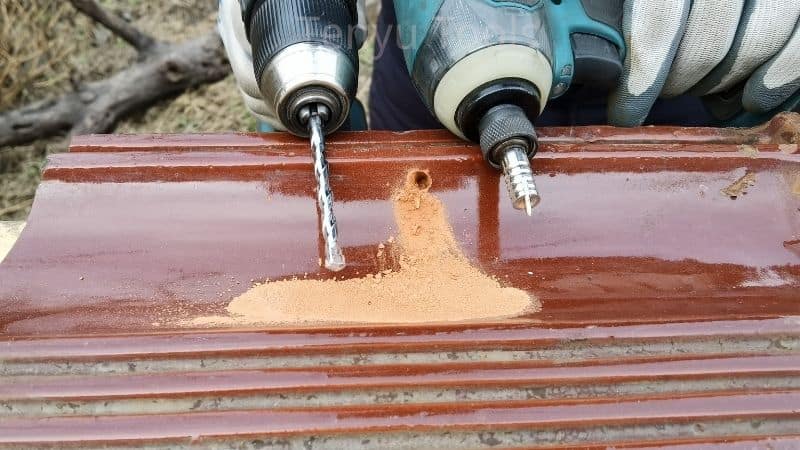 Shape of the Tip
Whenever you're asked to picture an image of a regular drill bit, you'll most likely be picturing the correct one. Their tips are slightly blunt and rounded; also, the grooves that run the bit length are spiral.
Concrete drill bits, on the other hand, don't have blunt tips. The tips of masonry drill bits are shaped like an arrowhead and in some cases, they resemble a pentagon.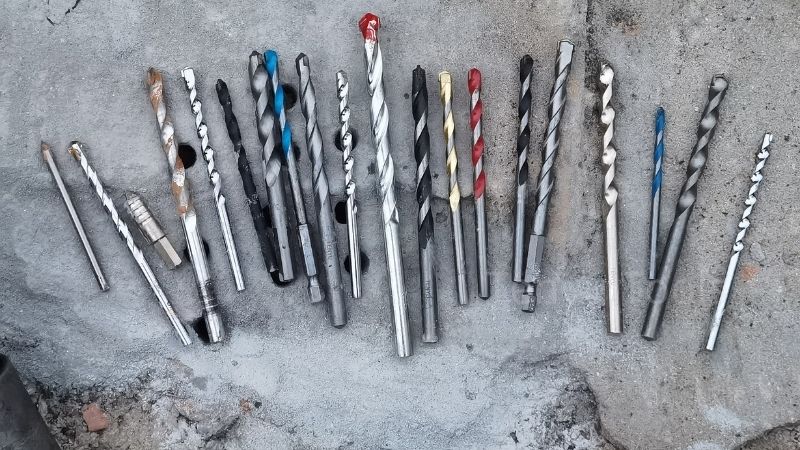 Material Make
Another is the make of the bits. Most regular wood drill bits are made of high-speed steel (HSS), because HSS is actually a common material in the industry. Most of the time, these drill bits don't have any type of special tips to help with the cutting.
Concrete drill bits, are usually tipped with an extra material to assist with the cutting. In most cases, carbide is added. There are some bits, though, that are made from an alloyed steel with a touch of cobalt as its coating.
Price
Partly one of the most obvious signs would be the pricing.
Concrete drill bits are going to come more expensive than traditional and regular drill bits. Due to specialized work, you should expect a huge jump and differential with the pricing.
These are some of the main differences to help you identify a concrete drill bit from a regular bit.
Concrete Hammer Drill Bit vs. Regular Drill Driver Bits
Almost always, concrete or masonry drill bits are used with a power drill or a hammer drill. Hammer drills deliver more strength and power via the hammering action of the drill directly to the drill bit; it pushes the bit forward as it rotates.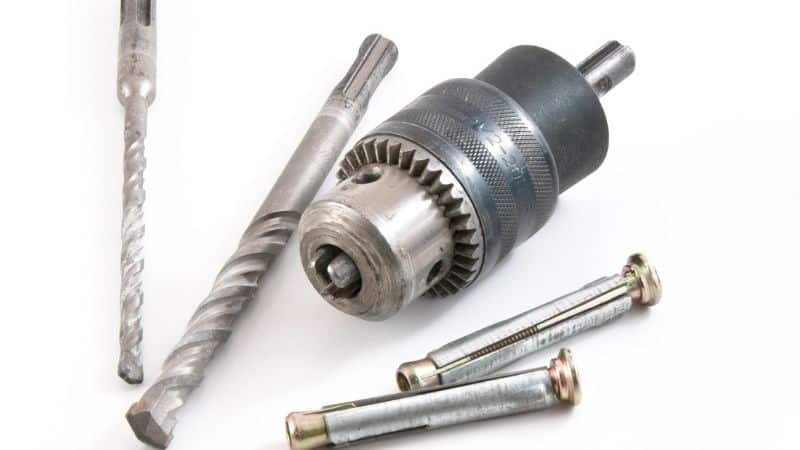 Regular drill bits don't usually have that motion – they just rotate and spin.
The purpose of the hammering motion is to help pulverize the concrete or the masonry during the bit's contact with the material; subtracting work from the concrete drill bit itself during the process.
If you're not able to find a hammer drill bit, there are normal drills that have hammering motions and features, so don't fret!
Can You Use a Concrete Drill Bit on a Regular Wood Drill Bit?
There's not a written rule that you can't use a concrete drill bit on a regular drill drive.
But, it'll be more work and more difficult; the timing could be double if you use a regular drill instead of a hammer drill.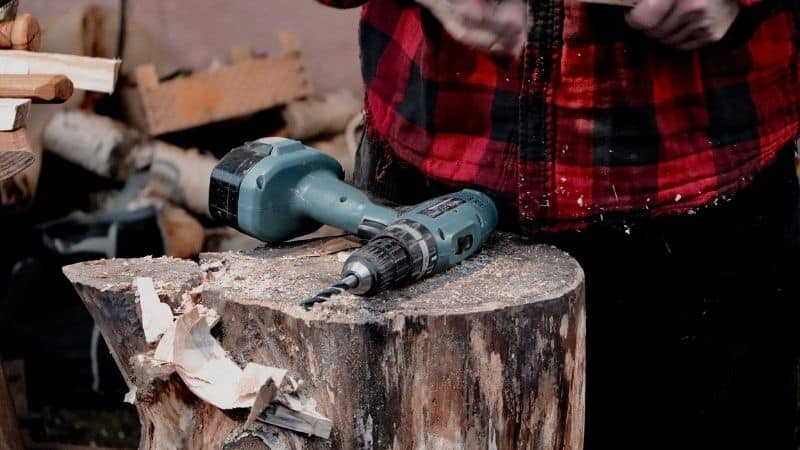 There are normal drills that have built-in hammer drill settings; there are cordless drills you can use, too.
The technique in pushing a hole through concrete is not with the drill bit alone, but the motion of pushing, crushing, and pounding the masonry or the concrete in order for its particles to break free.
Can Concrete Crack If You Drill Through It Using Concrete Drill Bits?
Concrete can crack even if you use masonry drill bits if you don't perform it properly.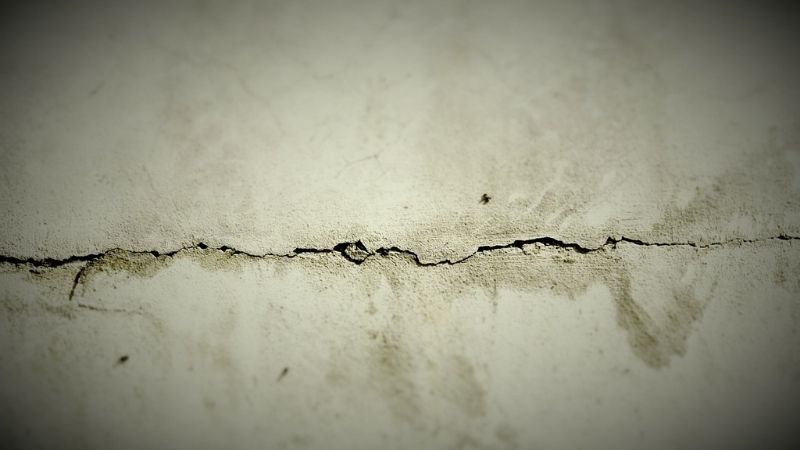 One of the most common scenarios is if you use a masonry drill bit but you don't have a hammer drill.
Another thing is when the angle is not correct. The best way to drill through concrete is to hold the drill perpendicular to the surface. Don't have it at an angle where cracks could sprout out.
To ensure the quality of the cut and to avoid cracking:
Use hammer drills if you are to work on concrete and other types of masonry; and
Use light-to-moderate pressure; let the bit do the work;
Avoid drilling deeper than what's necessary; and
Choose concrete drill bits with carbide at its tips
What Types of Drill Bits Can You Use For Concrete?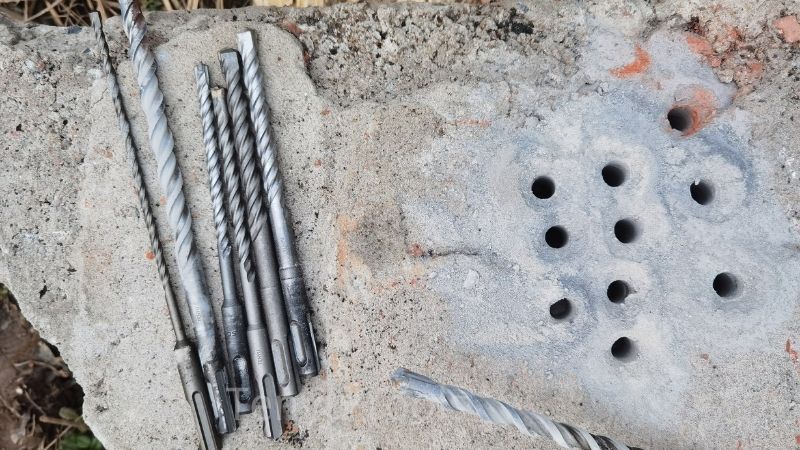 There is a list of the best drill bits you can use on concrete – these include:
Traditional Masonry and Concrete Drill Bits
Twist Drill Bits (with specialized tips)
SDS Bits
Hole Saws
You can choose from any of these drill bit types to work on concrete and other types of masonry. However, you should expect that choosing any of these could yield different effects and results – so take note of that.
Can I Use a Titanium Drill Bit as a Concrete Drill Bit?
Yes, you can use titanium drill bits for concrete; but, it might not function properly if you push it to work on concrete and other types of masonry.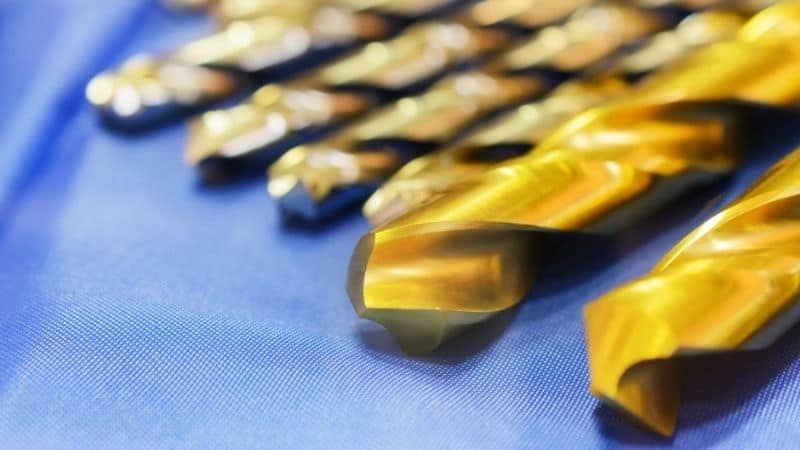 Titanium drill bits dissolve heat quicker and faster than regular alloyed drill bits, making them susceptible to breakage and damage swiftly.
How Long Do Concrete Drill Bits Last?
The answer will depend on many factors, such as the frequency of usage, where you use it, how long you use it on a single spin, etc.
Obviously, it'll last longer if you care for them properly. Otherwise, they'll last faster than you can say, "I need another one," if you don't.
The maximum time a masonry drill bit can last is up to a month (30 days) of frequent usage. If you won't use it everyday, and if you properly care for it, you can expect it to last for months.
But what is the correct way to maintain or care for your concrete drill bits? This actually calls for our next question, which is…
How Do I Maintain and Care For My Concrete Drill Bits?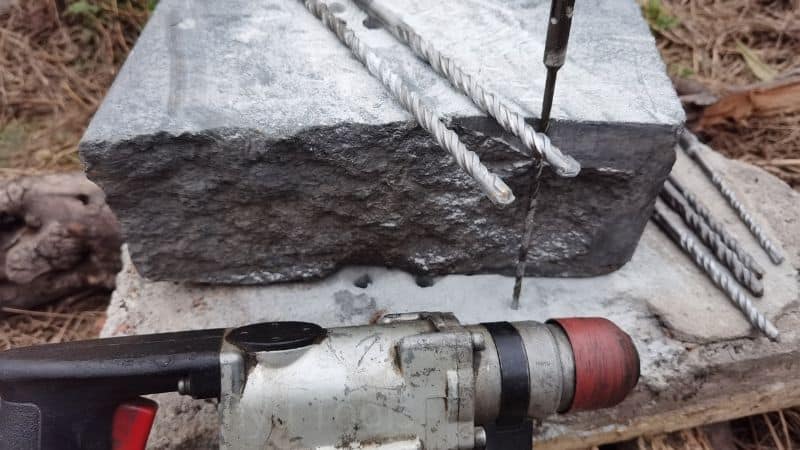 Akin to other types of drill bits, masonry drill bits need proper care and maintenance, too.
Sharpening concrete drill bits for better performance and proper maintenance
You can't just expect them to last for a month if you use them rigorously and on a daily basis.
Here are a few points that you can remember in order to properly care for your masonry drill bits:
Choose the right and the correct type of drill for a specific material (there are specific bits you can use for reinforced concrete vs. regular concrete, asphalt)
After usage, make sure that you wipe your bits off of a clean cloth
Dismount the bit off of the power drill every after use
Avoid maxing out the drill's capacity (don't make it go to a red-hot color); make sure to cool it down every time you use it for longer periods of time
Make sure that the concrete drill bit is carefully placed and attached to the drill. Wobbling it would not only put the concrete at the risk of breaking or being damaged, it can break your drill bit, too. It can also endanger you or the safety of the person to work on the project.
These are the best tips you can get to make sure your concrete drill bits won't wear out easily!
Can You Trust Chinese Concrete Drill Bits Manufacturing Companies?
There are a lot of Chinese concrete drill bits manufacturers that are trustworthy and reliable.
If you do a comparison, many businesses in the western hemisphere would choose to go with a concrete drill bit manufacturer in China versus what they have because of a ton of benefits and advantages, some of which include:
Better quality of materials
Lower and cheaper rates
High mark-up when they're retailed and distributed
Product Prices of Different Concrete Drill Bits Manufacturers
The market is filled with a ton of concrete drill bit manufacturers.
Choosing them via determining their pricing might not be a good idea – but it's something you can consider.
There are Chinese concrete drill bits manufacturers that offer tremendous pricing, but fail when quality is talked about.
For the safest amount, you can expect to pay somewhere between $1 and $30 for the retail price.
That's the regular and the most common range for concrete drill bits currently in the market.
You can get huge discounts if you purchase concrete drill bits in bulk and in wholesale. However, that would depend on the manufacturer and the type of concrete drill bit you're looking to buy.
What are the Different Applications of Concrete Drill Bits?
You can use concrete drill bits for a wide range of applications on varying projects and materials.
Choosing masonry drill bits can allow you to successfully work on a wide array of materials, including:
Brick
Stone
Asphalt
Concrete
Veneer
Reinforced Concrete (specialized masonry drill bits)
Blocks
And Many More!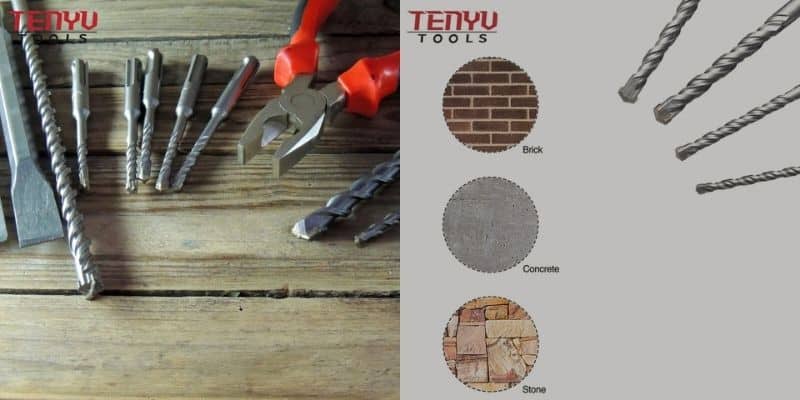 What's better is that you can find a lot of projects to use it for, too! You can drill shallow-to-moderate holes, you can enlarge an already-existent drilled hole, you can grind stone and other types of concrete, and many more!
Which Chinese Concrete Drill Bits Manufacturer Can You Trust?
While there are a lot of Chinese concrete drill bits manufacturers to choose from, you can never go wrong in choosing us here at Tenyu Tools Co., Ltd.
For more than a decade, businesses from all over the globe considered us as their go-to concrete drill bits manufacturer.
We never failed them when it came to delivering high-quality tools and accessories for their projects.
Why Should You Choose Tenyu Tools Co., Ltd.?
There are a million reasons why you should choose us to be your concrete bits manufacturer.  But here are some of the most crucial things that we have that other manufacturers don't:
Tenyu Tools can give you huge discounts even on a 100-piece Minimum Order Quantity (MOQ)
We have the best and the most experienced engineers and experts in the industry
We're ready to help you from purchasing our tools and accessories – even after the sales took place
We are in partnership with the best and the most trustworthy freight and shipping companies
We can deliver outstanding quality of custom-made concrete drill bits for your needs
We'll always be ready to solve and to attend to all your queries – give us 12 hours and we'll have a solution
Tenyu Tools Co., Ltd. will be your best concrete drill bit manufacturer. We will never let you down with the products that we have!
Contact us and get a free quote before you even begin shopping! We guarantee no hidden fees and surcharges to any of the services and the products you order from us.
Work with Tenyu Tools Co., Ltd. and experience premium customer experience, with top-notch product-quality without being overcharged!