Why Choose Tenyu Tools' SDS Chisel?
You can get SDS chisels that can work with SDS drills
You can purchase SDS chisels at a reasonable and competitive price!
You can choose from a hex shank, pneumatic collared shank, flat shank, plus shank, etc.
Your orders will be delivered to you at their best and highest quality!
You can use Tenyu Tools' SDS chisels incompatibility with all SDS style chucks (PLUS)
Your SDS chisels will last long – definitely longer than what you currently have!
You can use it on a wide range of applications – tiles, vinyl, carpets, adhesives, etc.
You will have high-quality tips, equipped with reinforcement!
Business Advantages of Working With Tenyu Tools Co., Ltd.
Tenyu Tools' SDS chisels are the solution to the masonry projects you have. Whether you need shatter-proof tools on tiles, stone, concrete, asphalt, rocks, etc., our SDS chisels are here for you!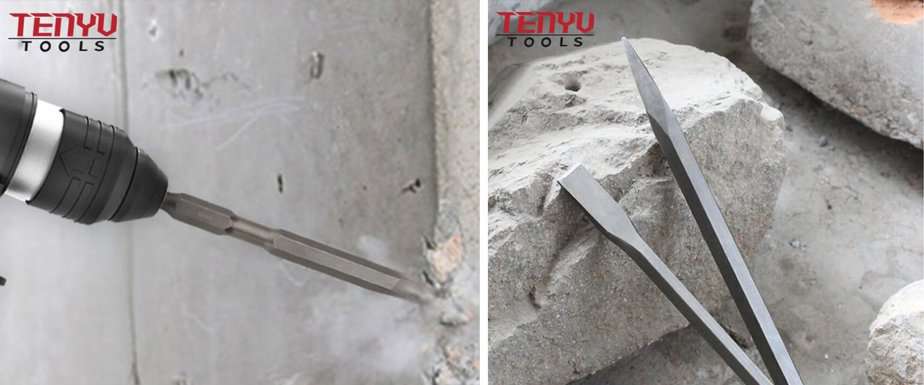 As the top and the most sought after SDS chisel manufacturer in the country, you would no longer feel the need to look for another manufacturer.
We will be able to suffice all the needs you have!
From regular hex shank SDS chisels, round shanks, flat shanks, PH65 shanks, as well as SDS flat, SDS plus, and SDS shanks, we got you!
There will never be a shortage on the SDS chisels you need with us here at Tenyu Tools! You can get pre-made or customized SDS chisels, all depending on how you need them!
Danyang Tenyu Tools Co., Ltd. is a company trusted and relied on by other world-renowned SDS chisel manufacturers.
Because of our innovation and our thirst for success, you will find most of our projects going the extra mile.
Work with us – work with the best – and never worry about getting high and extra quality SDS chisels at the best and most affordable rates possible!
Contact us now and we will supply you with a free quotation! We can guarantee your orders within 2 to 3 weeks after finalizing everything!
Features of Tenyu Tools' SDS Chisels
SDS Chisel Using
Some of the most notable features of our SDS chisels include, but are not limited to: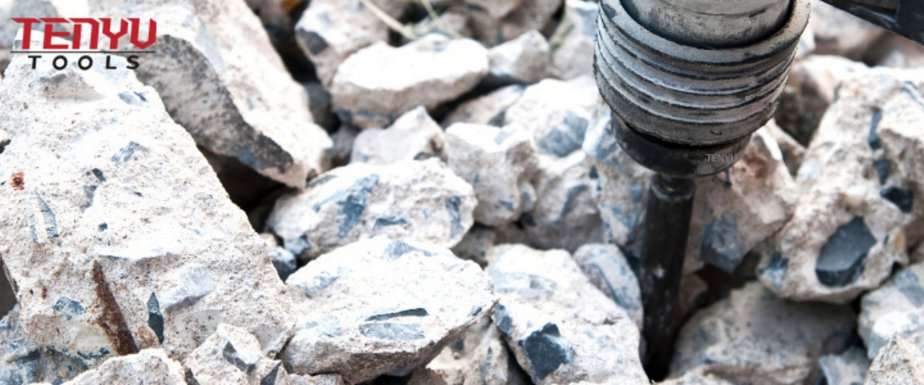 Many types, you can choose from clay spade chisel, pointed, flat, gouge, wide, etc.
You can be sure that our SDS chisels here at Tenyu Tools Co., Ltd. are sandblasted
Most of our SDS chisels are derived from 40 Cr steel and have been heat-treated
The typical hardness of Tenyu Tools' SDS chisels stand between 48 to 54 HRC
These are just some of the most common features and traits our SDS chisels have. There are others and there are a lot more!
Applications of Tenyu Tools' SDS Chisels
Ordering from us here at Tenyu Tools isn't just limited to businesses that are involved in the stonework.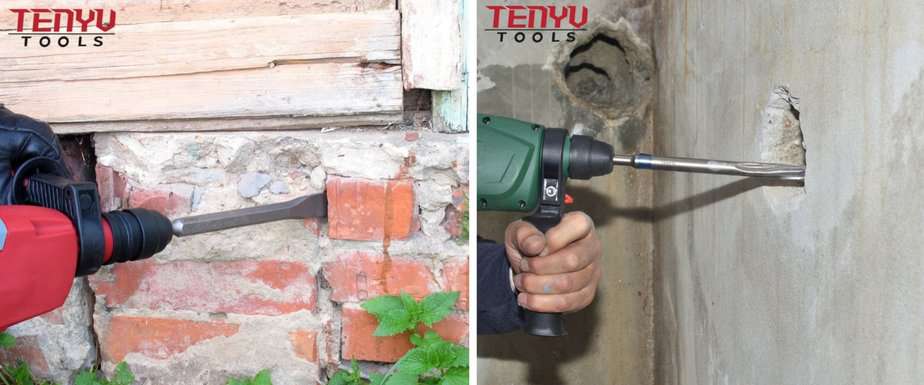 As a matter of fact, over half of the current and continuous clients we have are merchandisers and retailers!
We have merchandisers and distributors all across Europe, Asia, North and South America, Australia – and even Africa!
SDS Chisel can work in conjunction with an SDS drill.
SDS Chisel is suitable for shatter and removes masonry, tile, and other hard materials.
TENYU SDS Chisel is high quality with factory price.
SDS Chisel – The All-Inclusive FAQ Guide
SDS chisels have been a big hit in the market, especially in bigger and in more crucial projects.
While they've been making noise for quite a long time now, some people aren't still aware of what SDS chisels are.
For the benefit of everyone – even those who have been in the industry for quite some time and aren't still well versed with what SDS chisels are, we'll be discussing everything you need to know about SDS chisels.
We will help you find out what SDS is, how they're beneficial from usual and regular tools, and many more!
A Look at What SDS is
Slotted Drive System or SDS is a classification of a retention system for drills and drill bits.
In simpler terms, it refers to how the drill holds the bit. SDS allows the drill bit to produce extra force that is stronger and tougher than the usual or the regular drill bits.
SDS drill bits doesn't fall far from what a regular drill bit looks like. The only difference is that at the end of the shank, there's a hole or a "slot."
When put and mounted on a hammer drill, the chucks of the drill doesn't have to tighten up around the shank; it's going to be naturally attached, allowing the hammering motion to take place.
An SDS chisel is a specialized type of chisel that you can use for a wide range of applications.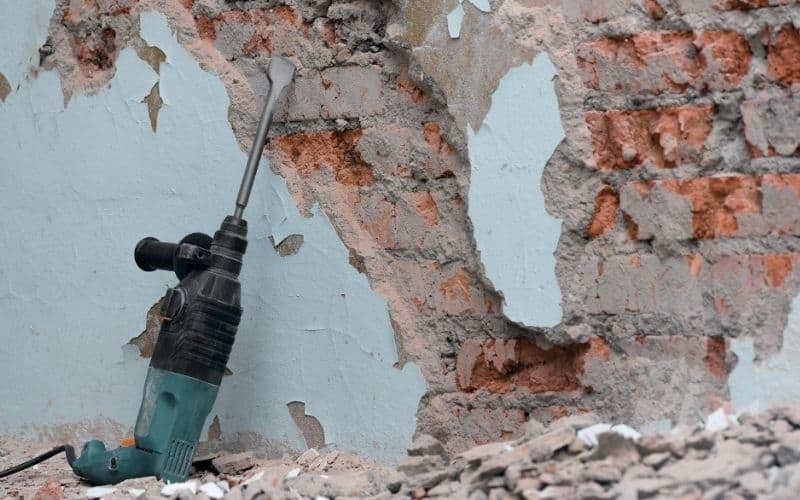 However, the primary utilization you can have for them is in chipping block, concrete, stone, asphalt, and other types of masonry.
We'll go and discuss more of that in our next question, which is…
What are the Primary Uses of SDS Chisel Bits?
The addition of SDS in chisels is what enables it to become more powerful and a lot more useful in various masonry applications.

When in fact, that's the main use of SDS chisels!
Part of the intended uses of these SDS chisels include, but are not limited to:
Concrete and Brick Adjustment
If there are adjustments and modifications needed for thick concrete walls, stones, bricks, granites, and other types of masonry, SDS chisels are what you'll need.
The back and forth force of hammer drills, adding the physicality and the way how SDS chisels are made, combine to create the perfect tool for masonry or stoneworking adjustments.
Do you think regular wood chisels would be enough in destroying 5-inch thick concrete and brick walls?
They won't even chip it further than 2 inches! That's where the strength and the overall durability of SDS chisels come in!
If you have a project involving thick slabs of concrete, strong and tough walls, as well as durable joints and surfaces, it's the most recommended to use SDS chisels.
Heavy-Duty Drilling Applications
When we talk about heavy-duty drilling, we're not just talking about regular drilling of stone and concrete.
It involves meter-thick concrete that needs to be destroyed or reinforced. To give a "concrete" example, imagine renovating a lot, where you'd have to start from the gutter – to the patio and the porch.
Using SDS chisels can actually help pave the way for the construction/renovation to begin. Without it, you wouldn't be able to chip off the needed materials to push the modifications through.
Different Types of SDS Chisels and Other SDS Bits
In determining the different types and classifications of SDS chisels, it almost always revolves around:
Is this your first time hearing – or even encountering these terms? Don't worry – we'll help you understand it!
Here's a better and a more detailed way of discussing each of these types:
SDS vs. SDS Plus vs. SDS Max
SDS is the standard and the first type of system in the chuck or shank type family.
What follows SDS is the SDS Plus, which is just an advanced version or kind of the regular SDS. Both the SDS and the SDS Plus's shank are at 10 to 12 mm (maximum).
Therefore, you can have an SDS chisel bit and an SDS Plus chisel drill bit and it will work in one power drill.

The SDS Max, lastly, is the newest, and basically the largest out of all three (3). It replaced the spline, which was the traditional tool for larger and heavier-duty work.
In terms of sizes, both SDS and SDS Plus fall under the same roof. The SDS Max, on the other hand, has a diameter of about 18 mm.
Those are the distinctive differences between the three (3) different classifications of SDS chisel drill bits.
Can a Hammer Drill be the Power Tool for an SDS Chisel Bit?
Yes, absolutely!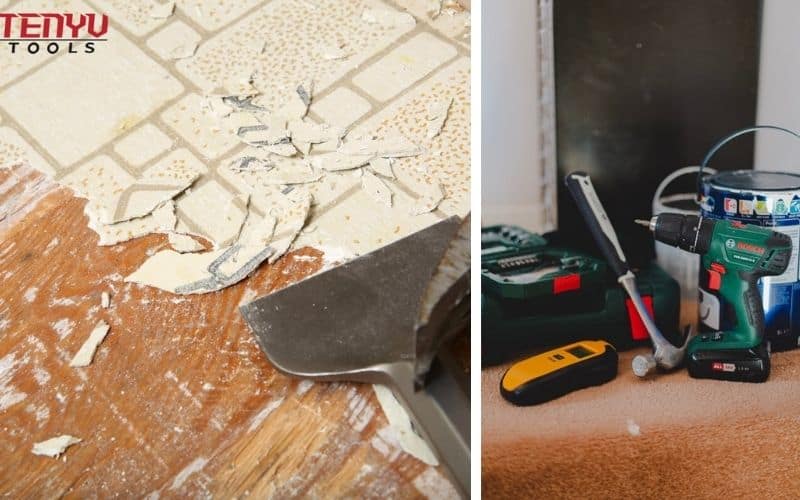 As a matter of fact, hammer drills are the most recommended type of drill because of the motion in which hammer drills operate and function.
Unlike regular drills, hammer drills have this front-end-back-forward motion. They're not just at a stagnant rotating motion; this gives the bit a chance to pull itself out, creating more space and removing more material.  
Can You Use an SDS Chisel for Stone/Concrete?
Yes! As a matter of fact, almost all construction and structural businesses and workers now choose SDS chisels to work on stone, concrete, bricks, and other types of masonry.

Because of the composition of an SDS chisel, along with the mechanism of a hammer drill, it wouldn't take you an hour breaking and slitting through brick and concrete.
So, if you're faced with a problem of choosing what type of chisel to use, don't hesitate to consider SDS chisels if you want faster, safer, cleaner, and smoother work.
What Applications Can You Have for an SDS Chisel?
Generally, SDS chisels are tools that you use if you are in the construction or structural sector.

To name a few and to specify, you'll use them if you are in the renovation, construction, demolition, stoneworking, and road & infrastructure repair sectors.
But, here are a few of the most common applications you can have for SDS chisels.
Laminate or Flooring Scraping
Boring Through Metal and Steel
General Concrete Chipping
These aren't the only applications you could use SDS chisels for. There are others! In fact, they're widely used in a number of business industries – from mining, construction & structural, marine and maritime, and many more!
Not all models of SDS chisels are made and are specifically manufactured to remove and to chip off floor tiles.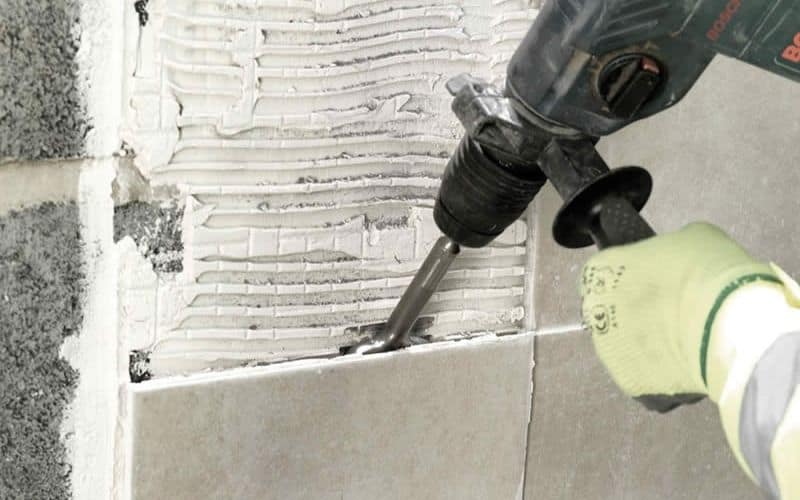 However, there are certain variants that are made for that purpose.
To cite an example, Tenyu Tools, the best and the most prominent SDS chisel manufacturers in China, offers an SDS Max and an SDS Plus flat chisel for the purpose of chipping off and removing flooring and walls.
So, their physicality appears to be thinner at the end of the drill bit end because of this purpose.
Can an SDS Chisel Bit Fit in a Regular Hammer Drill Chuck?
Yes! While SDS drills are the most recommended to use, you can always back and bank on regular drills that have hammering capability.

If you're thinking that it will slip – think again! Whether you have an SDS or an SDS Plus chisel drill bit, it can fit and work on a regular drill drive, as long as it has the pushing and pulling capability.
How Do You Choose the Right SDS Chisel?
With thousands of different options for your SDS hammer drill bits, it's going to be difficult and challenging to choose which one to go with.
Unless you've already made the order before and you know by heart which one you're going to purchase, you'll have a hard time determining which one works the best for you!
For you to be able to answer this correctly, it's best and it's important to know each and every detail of the following factors:
What Material Will You Work On?
Different SDS chisel bits are made and comprised of different materials that are specific to various workpieces.
For instance, you can choose an SDS chisel that is made up of tungsten carbide, and it can work on many different materials like all the different types and variants of concrete, stone, granite, etc.
How Long or Complicated Would the Job Be?
The length or the overall schedule of the project is also important in determining which SDS chisel you should purchase.
Some SDS chisels are marketed to last longer and to be more durable than other types and variants of SDS chisels.
So, if you deem that your projects would last anywhere between days to weeks – choose an SDS chisel that is highly durable, efficient, and effective.
How Fast Do You Want to See Results?
Last but definitely not the least is the timeline in which you want to see the results. Do you want to see the results fast? Or are you willing to take it slow so that the quality is never compromised?
Depending on the SDS chisel bit you'll purchase, you need to make sure that the SDS chisel you are to purchase is going to give you the results you want.
Choosing the most appropriate SDS chisel bit is a skill that many experts have yet to master. However, learning this skill can bring you the best and the most appropriate results you're looking for.
If you want cheap, affordable, and highly respected SDS chisel manufacturers, look no further and skim through various Chinese SDS chisel manufacturing companies.
And if you're not sure which Chinese SDS chisel supplier to work with, you can never go wrong in choosing us here at Tenyu Tools Co., Ltd.
We're among the top and the most trusted SDS chisel and power tools supplier in the country.
Why Should Tenyu Tools be Your First Option in Finding an SDS Chisel Manufacturer?
Tenyu Tools Co., Ltd. has been the top SDS chisel manufacturer and supplier in China for more than 12 years.
Our services are sought after to the extent that we are business partners with some of the world's most notable and most trusted power tools and accessories suppliers.
The SDS chisels that we offer here at Tenyu Tools Co., Ltd. aren't the usual and the normal types of SDS chisels you'll see in the market.
We have SDS plus wide flat chisels, SDS hammer flat chisels, flat cranked tile chisels, and many more! You will never run out of options of SDS chisels if you choose to work with us!
Tenyu Tools' Highlights in SDS Chisels
You'll never have any doubts in terms of quality when you choose to work with us.
When your order is confirmed, you can expect between 2 weeks to a month – and your orders will definitely arrive
You wouldn't pay or an absurd or a lucrative amount – all our SDS chisels, as well as our other power tools are affordable
We have many different types of SDS chisels that are applicable to many different scenarios
If you have questions, we have our customer service experts who are also skilled and knowledgeable when it comes to SDS chisels
Can Tenyu Tools Co., Ltd. Offer Custom SDS Chisels?
We specialize in creating a wide variety of SDS chisels to our clients.
Thanks to our highly educated and skilled Research & Development (R&D) team, we can procure custom-designed and targeted SDS chisels for your needs!
With Tenyu Tools, your search for trustworthy and reliable SDS chisel manufacturers will come to an end!
Reach out to us and get a free estimate of the accessories and the power tool add-ons you need! By the time you get our products and you experience our services, we can guarantee that you'll be hooked.
Work with Tenyu Tools Co., Ltd. and get the best and the highest quality of SDS chisels at the best prices you'll see!