Tenyu Tools Co., Ltd. The Best Grass Cutting Blade Manufacturer
● 

Grass Cutting Blade choose China Tenyu saw blades, you will find high-quality grass cutting blade.

●

It is important to cut the grass regular. You can cut the grass fast and smooth with grass cutting blade.
You can get premium grass cutting blades for a very low price here at Tenyu Tools
Your trims would be easy, fast, and accurate, thanks to the carbide-tipped technology
You can cut and trim weeds, grass, leaves, vines, etc.
The blades of your grass cutters are extremely durable and long-lasting
You can easily and conveniently sharpen the blades of your grass cutters
You can order customized grass cutting blades, depending on what you need
All of your orders and products will arrive in 2 to 3 weeks!
You can have your orders replaced if there are problems with quality – we got you!
Business Advantages of Choosing Tenyu Tools' Grass Cutting Blade
Tenyu Tools Co., Ltd. is the top and the most sought after grass cutting blade manufacturer in China.
Tenyu Tools Co., Ltd. is a one-stop-shop power tool and accessories company thousands of businesses have trusted over the past decade.
We are equipped with the best and the most experienced experts and innovators, who can help and assist you with the grass cutting blades you need!
Tenyu Tools holds several certifications – from ISO and SGS to conformance licenses and certificates, CE certificates, and many more!
You won't ever have to trim your lawn manually if you have our grass cutting blades!
Our grass cutters have all been made and formed via heat treatment, ensuring durability
You can fully customize the features and the physicality of your grass cutting blade
You can save money because our grass cutting blades are all-around; use them for many different types of plantation
Unlike the products of other manufacturers, Tenyu Tools' grass cutting blade can be sharpened more than 20 times!
We're able to deliver the serious quality of grass cutting blades; quality in terms of the blade quality, packaging, manufacturing procedure – and even our customer experience.
Tenyu Tools can help you whether you need a 40T weed eater, a 4T carbon steel wee eater, a TCT grass cutting blade – or even a customized grass cutting blade!
But what are the features and the functionalities that separate our grass cutters to the grass cutters of our competitors?
Features and Advantages of Tenyu Tools' Grass Cutting Blade
What are the Applications of Our Grass Cutting Blades?
Since they're grass cutter blades, are they limited to cutting the grass only? No, they're not!
You can mount it on a handheld cutter, a mower, and other types of tools and equipment!
As a matter of fact, you can also cut and trim small trees, weeds, roots, and other kinds and types of foliage.
If a certain area is not reached by a lawnmower, using Tenyu Tools' grass cutting blades can help you reach and cut it swiftly and cleanly!
You can consider us here at Tenyu Tools Co., Ltd. as your business partner whether you plan on being a distributor, a retailer – or if you need bulk grass cutters for your business!
You can cut and trim many different kinds of plantation and foliage using our grass cutters
Work With the Best Today!
Contact us now and get a huge discount for the grass cutting blades you need! We can also deliver a free quotation for you and your team for the products you require!
Grass Cutting Blade – The Comprehensive FAQ Guide
Lawn mowers aren't the only tools you can use to cut or trim grass – in fact, there are far more effective tools that have better grass cutting blades available in the market.
If you're new to power tools and accessories, don't worry! We're here to help you with it!
In this guide, we'll be detailing everything you need to know about grass cutting blades. We'll discuss what it is, what other things you can do with it – and ultimately, where you can find the best ones to grab your customers' attention.
What is a Grass Cutting Blade?
From its term alone, they're blades you can use to cut grass, weeds, and other kinds of foliage and vegetation.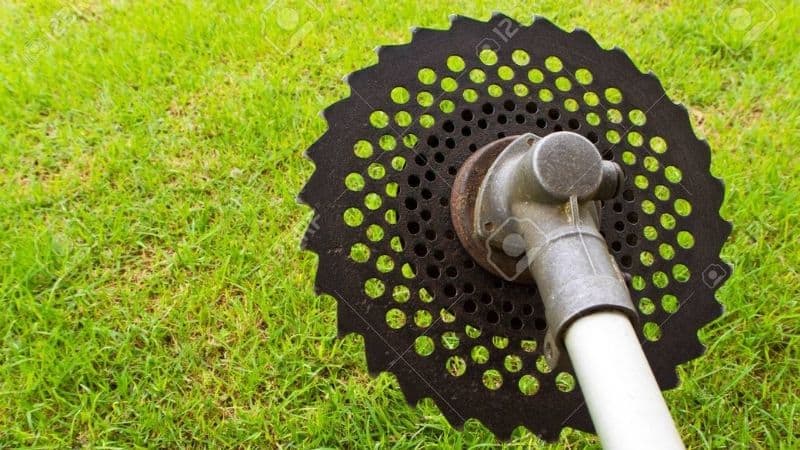 More often than not, they're composites are strong and sturdy metals. Some grass cutting blade manufacturers even add a bit of touch to its tips and teeth.
Can I Make a Grass Cutter Blade at Home?
You can make the machine, yes – but when it comes to the blade itself? – It's going to be difficult, but you can.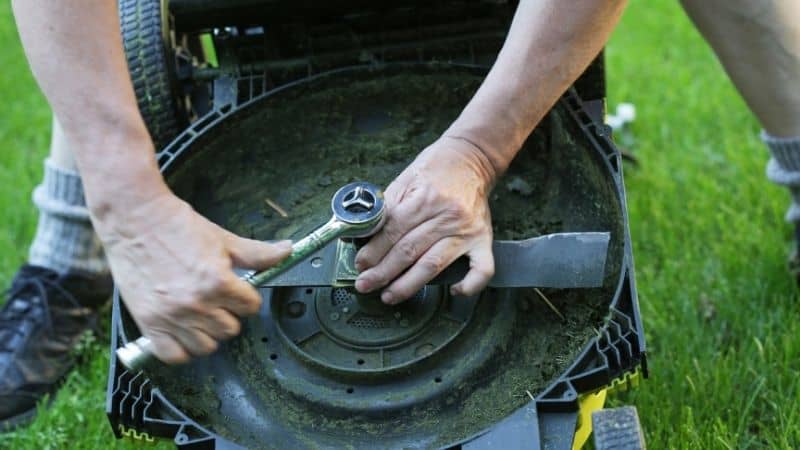 In most cases, DIY grass cutting blades would be literal blades from cutters, big razors, shaving blades etc.
The most common would be shaving blades, but you'll only be able to create a small grass cutter.
Grass Cutter Blade Material
Manufacturers utilize varying materials and resources in producing their grass cutting blades.
Some use carbon steel, while most grass cutting blade supplier use high-quality steel for the body (usually 65 MN steel), and a tip of carbide at the teeth for sharper, better, and neater cutting.
What are the Best Grass Cutting Blades?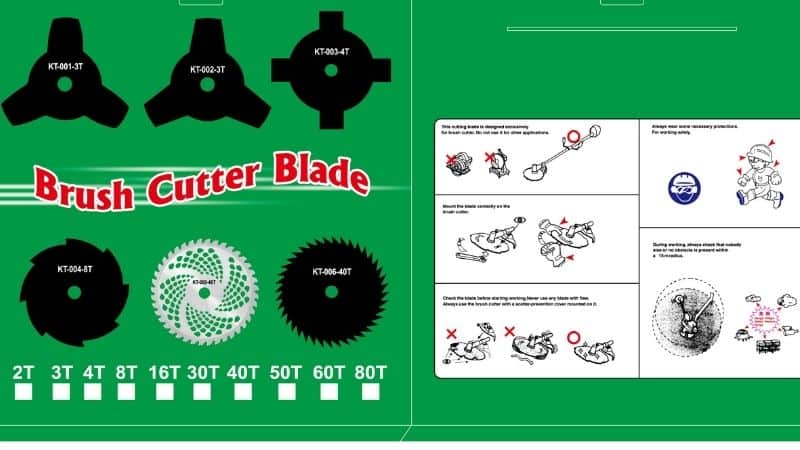 This is relative – some products might have worked for a few people, not the majority, but could still get a high rating.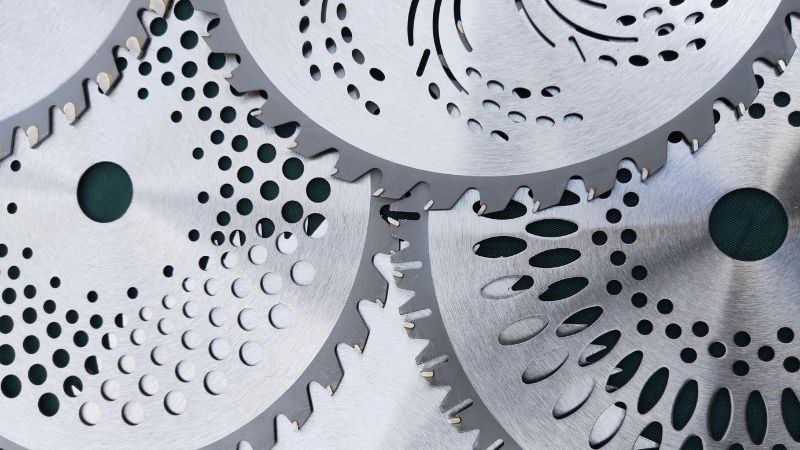 To be fair, we've tracked down the market's top-selling, and most sought after grass cutting blades.
We based it on popularity, effectiveness, and price.
The top grass cutting blades that are in the market include:
Ego Power + Lawn Mower Blade
Renegade Blade
Tenyu Tools Co., Ltd.
Toro Mower Blade
Gator Fusion Mulching Blades
And Others
When you decide to choose and purchase any of these, you'll surely never have a problem!
Choosing Tenyu Tools' grass cutting blades, though, will give you the best results – for what reason? – We'll get to that later.
Brush Cutter vs. Grass Trimmer: What's the Difference?
Many people still can't understand the differences between a brush cutter and a grass trimmer.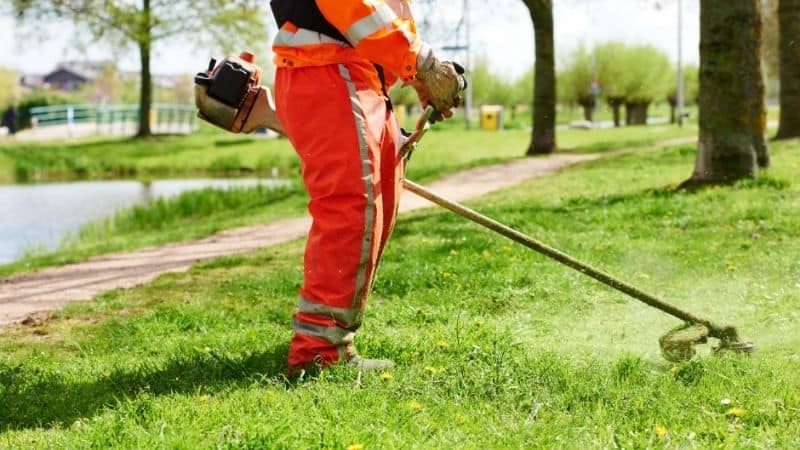 While it seems so obvious, a lot of people still get dumbfounded by what the differences are. Fret not! Here are a couple of things you can remember to successfully differentiate the two.
Both of them are machines you can use to beautify your lawn, your patio, your garden, or your backyard. However, there are some distinctive factors between them:
Grass Trimmers
From the term alone, grass trimmers are machines you can use to trim the lawn or the vegetation. For instance, if you see that your weeds are growing thicker, it'll still be safe to use a grass trimmer.
You can safely use grass trimmers for: dead grass, thin weeds, and thin lawn that mowers don't reach.
Brush Cutters
On the other end of the spectrum, brush cutters are heavier, more serious machines. You use them if the thickness of the grass or the plants at a certain spot is too much. They're so heavy, that you can even cut small trees with them!
You can use a brush cutter for thin grass, but a grass trimmer might not be effective on thick, big, and tall plants.
Different Types of Brush Cutter Blades
If we were to look at it generally, we can classify four (4) different types of brush and grass cutting blades.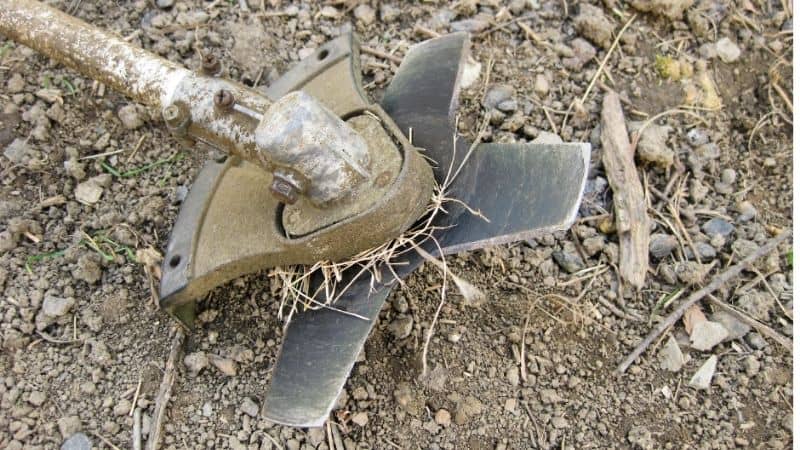 We have the Knife, Smasher, Mulching, and Chisel.
Knife Grass Cutters
Akin to what it's called, these are blades that have sharpened edges. That's what you'll use to cut and slice through grass and plants, and they're usually made from high-quality steel.
Smasher Grass Cutters
Unlike knife blades, the smasher type of grass cutting blades has no sharp edges.
What they use to cut would be the blade itself, and it will vary and depend according to the thickness of it.
They function and work similar to a flail where the blades are tossed – they smash through grass and other types of vegetation.
Mulching Grass Cutters
Mulching grass cutters are the traditional tools used to cut or slice through grass.
They've been designed to "mulch" or to cut vegetation finer and more effectively. Usually, they're thin and have an angled edge, which is used for cutting.
Chisel Grass Cutters
Last but most definitely not the least are the chisel grass cutting blades.
These are the blades that are most commonly used with a wide array of power tools. They come in a circular saw blade kind of shape with teeth sharpened and enhance.
They're known to be more efficient in cutting and trimming, and you can also utilize them to cut trough vegetation that has thin-to-moderate pieces of wood.
These are the different grass cutting blades you can decide to choose from in the market. You'd have to select depending on the action and the type of result you want to achieve.
Where Can You Apply Grass Cutting Blades?
One way of successfully advertising your grass cutters is through showcasing what applications they can have for it.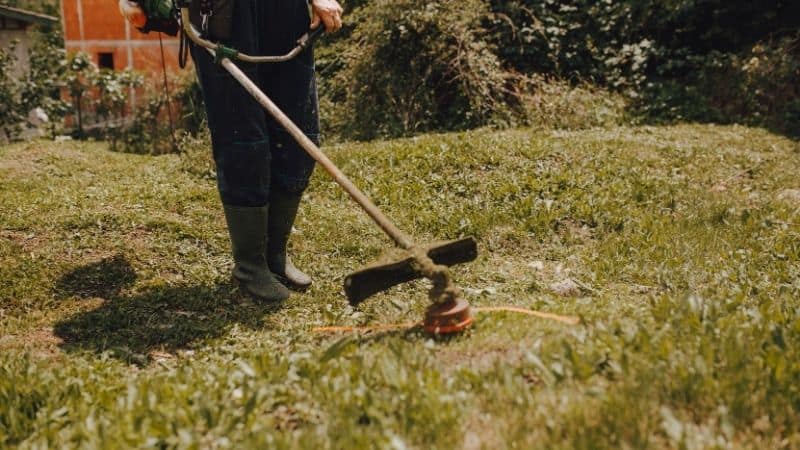 For Tenyu Tools' grass cutting blades, you can use it on a wide range of applications, namely:
Home use (garden, porch, and backyard)
Trimming of grass, shrubs, and trees
Commercial agricultural and farming use
Farmland use
Residential and commercial landscapes
Trimming of vegetation in forests
And so on!
We have designed all our grass cutting blades to be versatile; that's what put us atop the manufacturing ladder.
Our Grass Cutting Blades Durable?
Yes, grass cutters are durable and strong. Most of it is because of the fact that it's heat-treated, but there are some parts that dictate it's because of the type and the quality of steel used.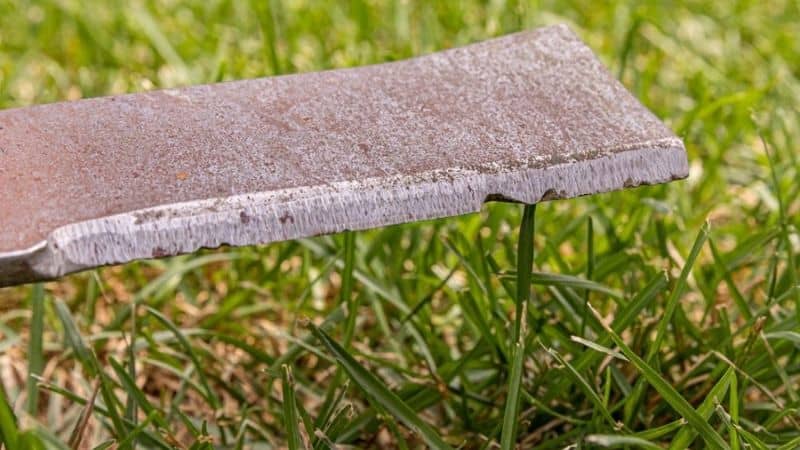 The usual manufacturing procedures grass cutting blades undergo include:
Quenching
Firebacking
Face hardening
Cooling
Re-enhancing
Can You Purchase Grass Cutting Blades Wholesale?
Yes, there are manufacturers that offer wholesale sets of grass cutting blades.
In fact, purchasing directly from a manufacturer often requires a "minimum order quantity" or an MoQ.
This is, of course, for the shipping and the delivery to be worth the price and effort.
How are Grass Cutting Blades Delivered and Ordered?
When you have a manufacturer in mind, the next best thing to do is to figure out the number of blades you need.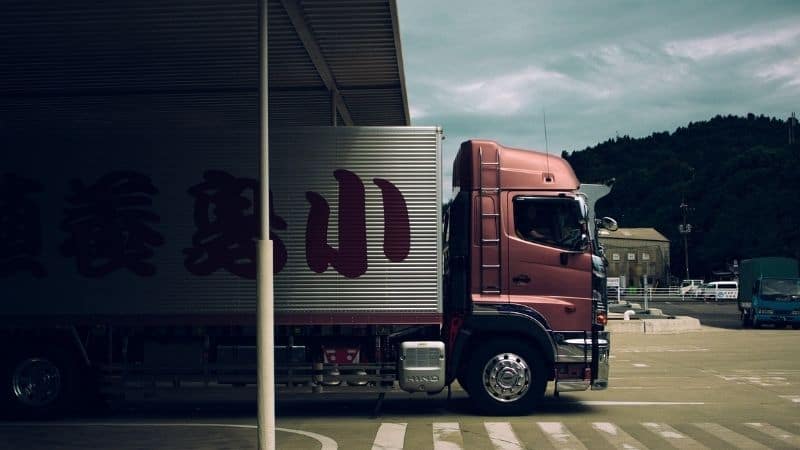 Then, you just have to follow the same process of how you would order:
Contact and tell the manufacturer that you're going to order
Arrange all the papers and documents needed from your end
The manufacturer, in their part, would be preparing documentation, too
After all the products have been assessed and quality-checked, they'll pack it
Then next is the delivery of the package
How Much Does a Blade For a Grass Cutter Cost?
The typical price for a grass cutting blade would depend on many factors; these factors include, but are not limited to:
Type of Grass Cutting Blade
Manufacturer of the Blade
Function and Features of the Blade
Compatibility of the Blade
Material Used to Produce the Blade
And So On
Generally, the price for grass cutting blades cost somewhere around $.50 to $3 per piece – and that is if you purchase them in bulk.
Individually, though, they can cost anywhere between $5 and $15 if you're going for their retail price.
The best thing to do to get the most accurate rates is to ask and inquire to the manufacturer of your choice about it. They can send you a free quotation or a free estimate for it!
Can I Order Custom Grass Cutting Blades?
A lot of grass cutter manufacturers have this as their specialty – this is one of the factors that make them stand out from other grass cutting blade suppliers.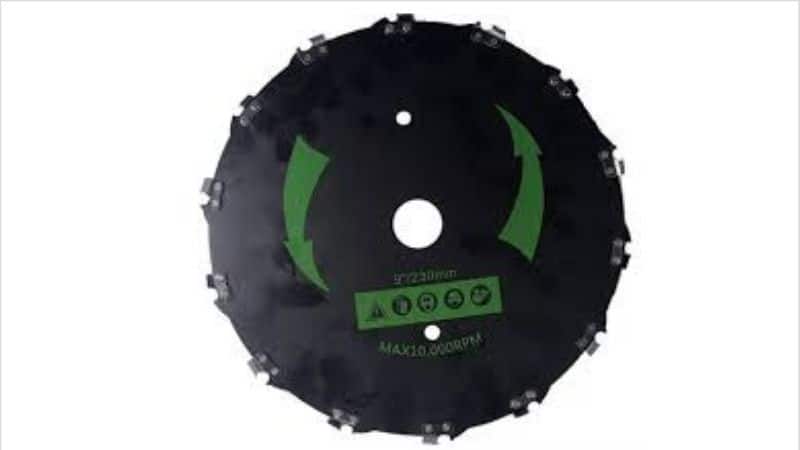 In creating a custom order, manufacturers would ask you for the following:
Sketch or design of the blade
Materials you ought to use for the blade
Procedure of how you want it done
By knowing these information, a manufacturer would be able to grasp on the type and the kind of blade you're looking to get.
What Product Specifications Should You Note in Purchasing Grass Cutting Blades?
In choosing a particular grass cutter, you need to take note of the following specifications:
Usage
Usage is the specific category that will give you knowledge on how you can use it. This is important because choosing an incorrect blade can result to a lot of problems, such as:
Blade damage or dullness
Soil breakage
Low-quality results
And many more!
For instance, usage of grass cutters could be for grass, lawns, bushes, brushes, etc.
Blade Outer Diameter
This refers to the total size of the blade from outside its diameter.
If you're not sure of what diameter of the blade you're eyeing on is, you can easily look at its label. This is relevant because you need to know if what you'll buy fits your power tool or machine.
Body Thickness
Usually determined in millimeters (mm), this refers to the size of the blade's thickness.
The most common ones range between 1 to 1.6 mm.
Is the blade thick enough for my tool? Or would it fit? – Those are the questions you should be asking when purchasing.
Kerf
Kerf is easily defined as the width and the measurement of the material removed by the process.
The best example would be a kerf that is about 2 mm; meaning the width and the specific thickness that your grass cutting blade would produce.
Hole Diameter
You're able to mount or attach your grass cutters to your power tools because of its hole or boring hole.
The hole diameter is the measurement of the boring hole or the "center hole" of your blade; it must fit the power tool you'll use.
Teeth Count
Last but most definitely not the least is the teeth count. It's pretty straightforward – the teeth count is the number of teeth of a grass cutting blade.
Selecting a blade with more teeth can work cleaner, neater, and smoother. You'd want a grass cutting blade with more teeth if you are going to work on landscapes, gardens, commercial vegetation, etc.
Those with fewer teeth, on the other hand, will be able to cut faster.
Which Grass Cutting Blade Supplier Should You Trust?
For more than 15 years, Tenyu Tools Co., Ltd. has been China's top grass cutting blade manufacturer.
Tenyu Tools, the best grass cutting blade supplier in China
We've delivered countless grass and brush cutters to our clients worldwide. You can bank and count on us too!
Most, if not all of our grass and brush cutting blades have average-sized bores! You wouldn't worry about it not fitting on your machine!
Whether you need a 6-teeth steel grass trimmer, a carbide-tipped brush cutter, and even a customized grass cutting blade – we got you!
You will never have any regrets in choosing us here at Tenyu Tools Co., Ltd. for the grass cutters you need!
Why Work With Tenyu Tools Co., Ltd. for Your Grass Cutting Blade?
Tenyu Tools Co., Ltd. has been the go-to manufacturer of suppliers and manufacturing companies in Asia, as well as in North and South America.
Their continued trust is due to the lack of leniency and mistakes we have.
We are a company with CE, SGS, and ISO licenses and certifications
We've developed and fully enhanced our manufacturing processes
We use the equipment we've made and manufactured
Our packaging is completely sealed and protected – and is shipped via our trusted shipping companies and couriers
Never work with the wrong brush cutting blade manufacturer ever again! Choose Tenyu Tools Co., Ltd. and get the best and the highest quality of grass cutters for the best and the most competitive rates available!
Contact us and get a free estimate of the products you need! Our MoQ is only at 100 pcs., we still reserve your right not to over-purchase!