Why You Should Trust Tenyu Tools Co., Ltd. as Your Wood Drill Bits Manufacturer
You can treat us as your one-stop shop in all the wood drill bits that you need
You can get high quality wood drill bits at the most affordable rates and prices
You don't have to worry about quality – all our products have undergone quality testing
You'll never run out of options in choosing our wood drill bits!
You can view and see our factory via our online workshop and showroom
Your products will arrive within 2 to 3 weeks from the date of order confirmation
You'll never have a problem contacting us – we respond within 12 hours!
You will always receive updates about your orders and your products
Tenyu Tools: Your Premier Wood Drill Bits Manufacturers
Tenyu Tools Co., Ltd. has been the top and the most sought-after wood drill bits manufacturer in China.
We're able to give our clients everything they need – whether they require pre-made wood drill bits or custom wood bits.
The vast size of our wood drill bits will allow you to choose freely! If you need a high-quality CnC HSS tapered drill bit, a turbo max point HSS drill bit, and even a reduced HSS shank drill bit, we got you!
Some of which, include:
Cost-effectiveness and efficiency because of long-lasting wood drill bits
Highly customizable wood drill bits, depending on what you need
Easy-to-talk to customer service and customer department
High profit, low cost for capital and purchasing
Versatile and multi-functional wood drill bits (can be used for spurring, marking, denting, cutting, etc.)
And many more!
Tenyu Tools' wood drill bits will always give you the solution you've always wanted – and you'll never have a problem getting or acquiring our products!
Tenyu Tools' wood drill bits are so easy-to-work with!
Company Business Advantages of Working With Tenyu Tools
Tenyu Tools Co., Ltd. is known and is considered as the best and the most renowned wood drill bits manufacturer in the whole of China.
For more than a decade, we've done nothing but improve the quality of our products.
We are ISO certified, and we have an ASTM acceptance and certification, too.
If you are looking for a wood drill bits manufacturer that you can fully trust, don't go elsewhere. Tenyu Tools Co., Ltd. is always open and will be happy to do business with you!
Contact Us Now!
Work with Tenyu Tools today and get the wood drill bits you need at the most competitive rates and prices!
Get a free quote for all the wood drill bit orders that you need!
Advantages
Wood Drill Bits Using
Advantages of Tenyu Tools' Wood Drill Bits
Choosing Tenyu Tools' wood drill bits will allow you to have a wide array of benefits and advantages.
Applications of Our Wood Drill Bits
Our wood drill bits aren't just limited to businesses involved in woodworking.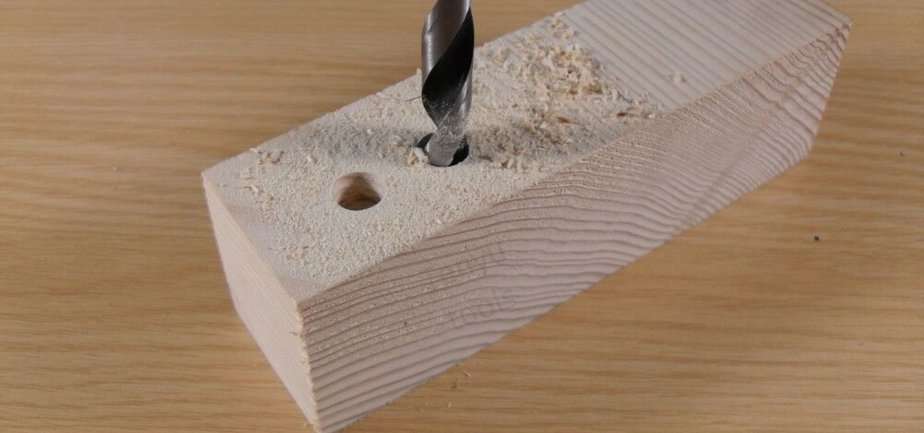 As a matter of fact, we do business even with hardware stores, distributors, merchandisers, and retailers, too!
Tenyu Tools' wood drill bits are so easy-to-work with!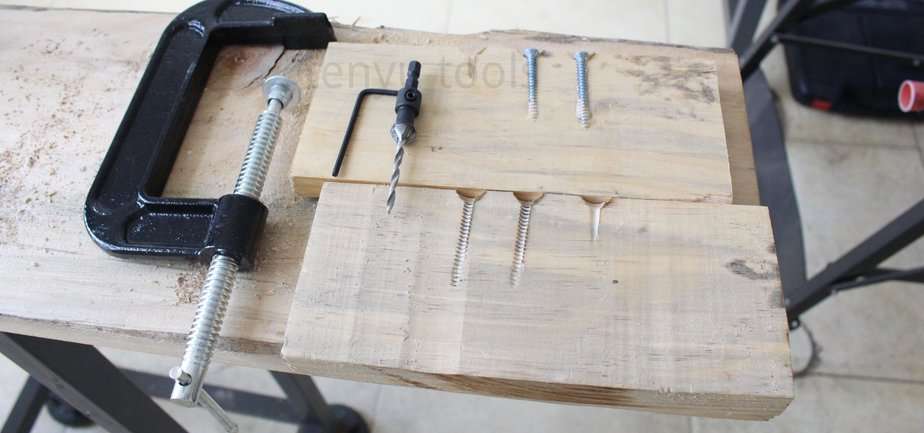 Wood Drill Bits have different types
Forstner Bit
Wood Spade Bit
Wood Auger Drill Bit
Countersink Drill Bit
Brad Point Drill Bit
They have different uses, and you can choose what wood drill bits that you need.
Wood Drill Bits – The Ultimate FAQ Guide
Have you been trying to get the best, the most effective, and the highest quality of wood drill bits? In case you're not sure where to source them from – don't worry, this guide will be everything you need!
This guide will accurately answer all the questions you have about wood drill bits! As a bonus part, we'll give you a couple of tips on how you can land on working with a trustworthy wood drill bits manufacturer!
What Does a Wood Drill Bit Look Like?
Imagine a drill bit or the tip of a drill that people use to cut or bore a hole through wood and other materials.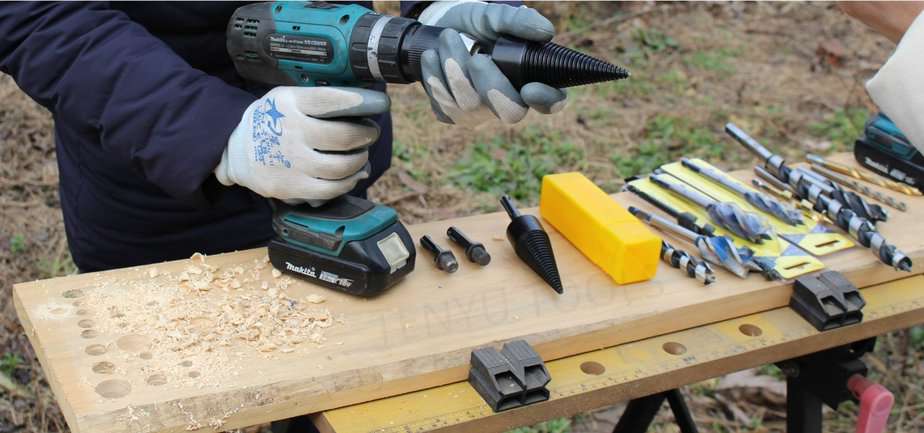 What you're imagining, most probably, is a wood drill bit – and it's actually the "statue of liberty" of all the types and kinds of drill bits.
It is the most famous because of it simplistic approach.
Generally, speaking, these wood drill bits look regular and generic. Furthermore, the tips of these wood drill bits are usually silver; and the tip usually is a sharp tip, which functions as the thing that spurs wood.
However, some concrete and metal drill bits have variants like this, too.
This brings us to our next question, which is…
How Can You Identify if a Drill Bit is For Wood?
There are many different types of drill bits.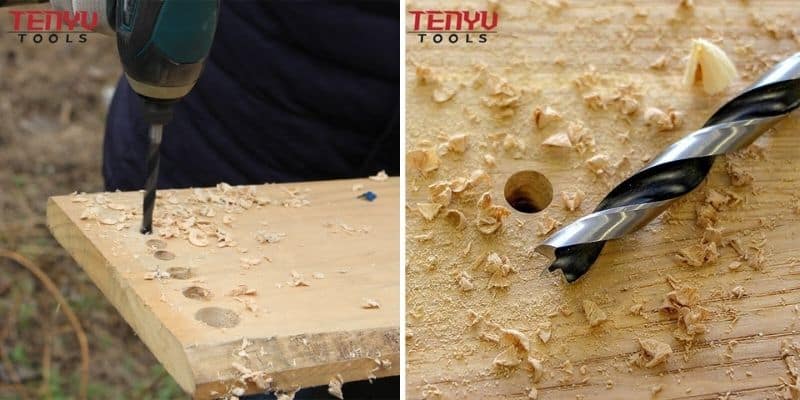 Therefore, you might find it difficult to identify a wood drill bit.
In the market, you can purchase drill bits for metal, concrete, and wood! This is the reason why distinguishing which ones are for wood can be hard.
But, you can actually easily be able to identify wood drill bits from metal and concrete bits.
NOTE: Keep in mind that most of the time, concrete and metal drill bits are also effective in cutting through wood. However, if you want a perfect bit (a bit that's only applicable to wood), you need specific wood drill bits.
No Lubricant
Wood drill bits don't require lubricant. Unlike concrete and metal, your drill bit wouldn't actually heat up. So, you don't really need lubricants if you ought to use wood drill bits.
Some of the most customary wood bits include auger bits, brad point bits, flat or spade bits, regular (HSS) drill bits, multi-functional drill bits, and many more!
Pointed End
Unlike metal and concrete bits, wood drill bits have a pointy end.
This end houses the two (2) spurs on each side, which is the function that carves and removes the wood.
Those are the main characteristics of drill bits of wood drill bits.
What are the Best Types of Wood Drill Bits?
Here are the best types of drill bits that you can use for wood – in much more detail.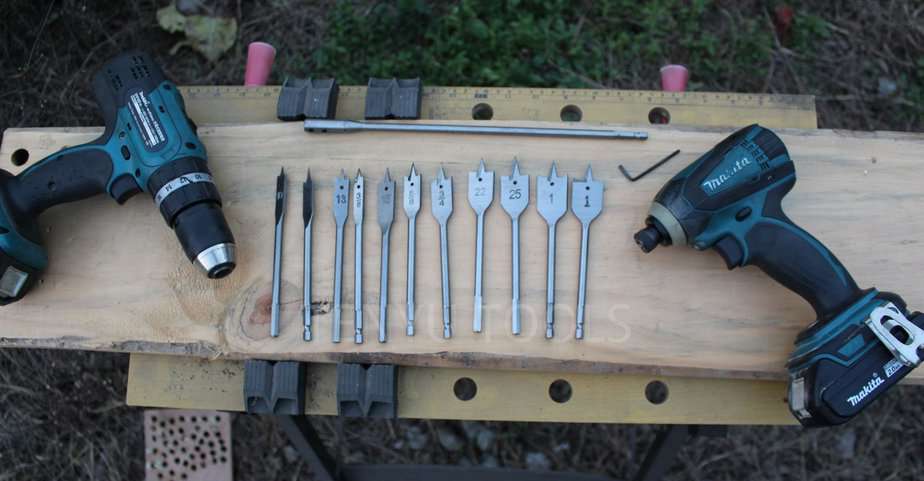 Spade Drill Bit
These are the drill bits that are shaped like a paddle, but with a pointed tip at the end.
You use these types of drill bits if you ought to create holes with large diameters (usually up to one (1) inch).
They're also often referred to as flat drill bits.
Auger Drill Bit
Auger bits are the wood drill bits you need if you want a clean hole in one pass.
Its appearance is like a corkscrew where it has spurs that remove the material, and allow it to pass through.
You'd want to use auger bits if you want to bore deep holes cleanly.
Countersink Bit
In physicality, countersink wood drill bits don't have sharp cutters. Instead, the bit has a cone at a particular angle.
When the drill bit spins, the edges of the cone are what makes the cut.
Brad Point Bit
If you're looking for a drill bit that's precise in drilling and in working on both soft and hardwood, brad point bits are what you need.
It's a type of drill bit that is extremely sharp with a pointed end at the center; this end is the functionality used for exact position of the hole.
Forstner Drill Bits
Forstner bits are the type of bits that aren't usual. So, if you are a beginner, you might not be 100% aware of what these forstner bits are.
You would want to choose using a forstner bit if you want to cut large-diameter holes using a drill press.
Their shape allows extremely fast cutting, but with the risk of unclean holes in one pass.
These are the different types and kinds of wood drill bits in the market that you can absolutely choose from.
Could You Purchase Wood Drill Bit Sets?
Yes, as a matter of fact, it's better and much more economical to purchase a set of drill bits. Why?
Because you wouldn't have to worry if the sizes would fit – there'll be about eight (8) to ten (10) different sizes included in the set.
So, if you're not sure with the size of your project; or if you have other parts and components to work on, the best thing to do is to buy a wood drill bit set.
What are the Most Common Wood Drill Bit Sizes?
In carpentry, the most common and the most popular wood drill bits are:
Small Holes: 2 to 11mm
Medium Holes:16, 18, 22, 25, and 28mm
Large Holes:30, 35, and 38mm
Some manufacturers of wood drill bits innovate and manufacture adjustable hole cutters for sizes and shapes that are not too common.
And we here at Tenyu Tools Co., Ltd. can help you out with that! We'll get to know more of that later.
Can I Use a Wood Drill Bit on Concrete?
Wood drill bits are made and designed to cut and slice through wooden materials. Therefore, it's not advisable to use them on concrete and other hard materials.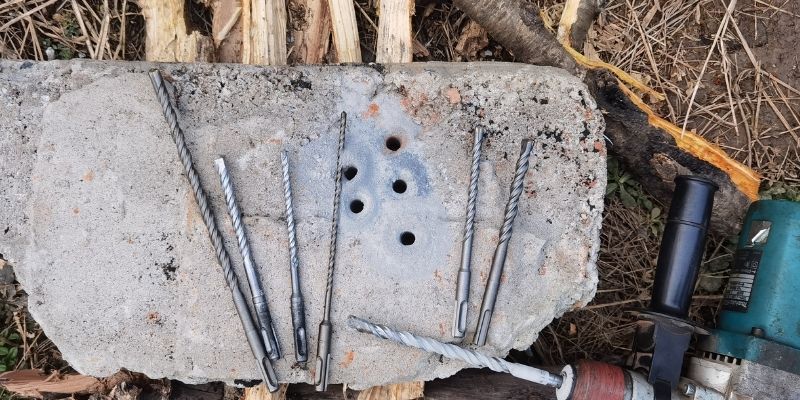 You can use them and they can do the job in a slower and less effective pace. However, you need to expect that they'll be damaged easily and swiftly.
Do Wood Drill Bits Get Hot When Used Into Wood?
The scenes of wood or workpieces getting hot, burning, or catching fire is not normal, but it's something that happens on a few occasions.
It happens because particles of workpieces undergo friction with the surface of the drill bit.
To avoid this from happening, all you have to do is to make sure that your drill bit is sharp. Dull wood drill bits are often the culprits for workpieces catching fire.
What Are Wood Drill Bits Made Of?
Different wood drill bits are made from different materials.
To illustrate further, manufacturer A could use material 1 for their drill bits, manufacturer B could use materials 1 and 2, while manufacturer C could use materials 1 and 3, and so on.
The most common materials that are used for the creation and the manufacturing of these drill bits include high speed steel (HSS), low and high carbon steels, and steel + cobalt.
Black oxide, titanium, vanadium, and the like are only coatings; they're not really the material that makes up the entirety of the drill bit.
Can You Save Money in Using the Correct Wood Drill Bits for the Project?
Yes, saving money is one thing if you use the correct and the most appropriate type of drill bit.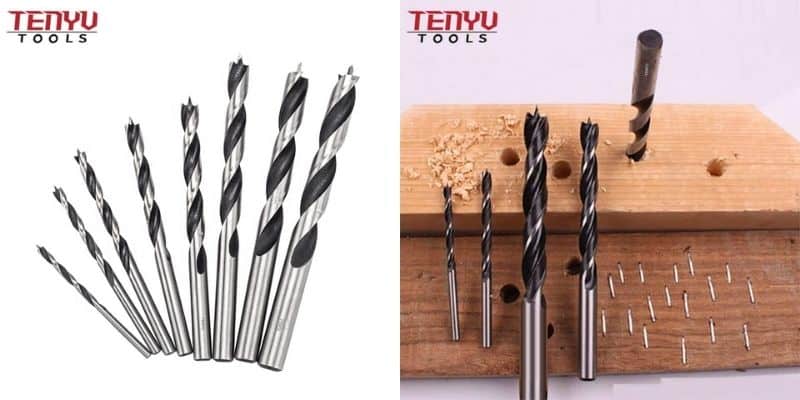 Other benefits include, but are not limited to:
Less effort
Promoted safety of workers
Longer-lasting drill bit
And many more!
Less Effort
You would need to exert less effort because the drill bit that is the most appropriate is designed to work on that particular workpiece or material.
Safety of Workers
Using drill bits for wood to work or bore a hole through concrete would not only be slow, it's also dangerous as the drill bit can be broken down and be damaged.
Longer-Lasting Drill Bits
Last but definitely not the least would be the extension of your drill bits' lifespans.
If you maintain and care for them properly, you can expect them to last longer than you expected them to be.
Try to think of this analogy for a quick second. After you use the wood drill bits, you just store them along with other tools. So, they tend to get scratched due to the friction whenever you carry the toolbox or the container around.
However, if you store them in a place where they're safe for sure, they'll avoid all of these instances; therefore, they'll have longer and more durable lifespans.
Combining all of these will absolutely save you money, time, stress, and effort!
How Do You Choose the Right Wood Drill Bits?
You might think that choosing the wood drill bits for your project is easy, but it's not actually as simple as you thought.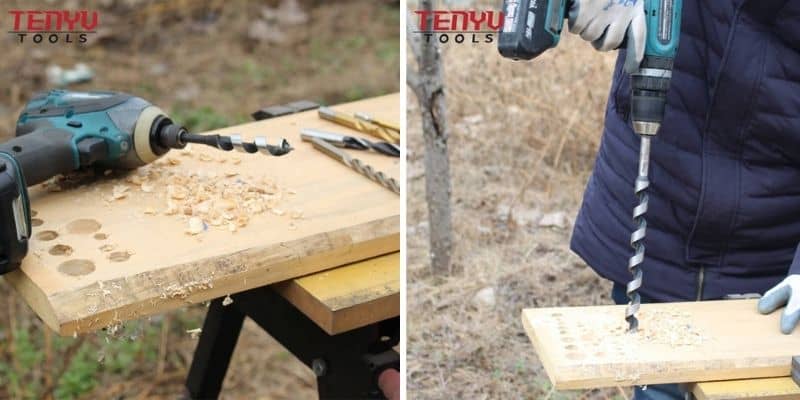 Here are some of the top tips we can give you in terms of choosing the best wood drill bits for your project:
Never Purchase the "Exact" Size in Drilling Softwoods
Because softwoods are easier to drill, choosing a drill bit that's around 0.4mm smaller can help you get more accurate and more precise measurements when creating the hole.
So, it's always best to purchase wood drill bits that have smaller diameters than the exact size of the hole you're looking to drill for softwoods.
Check the Coating Type of the Drill Bit
Choosing the type of the coating will also get you a ton of benefits.
For one, the coating type will help in distinguishing how your drill bits will be protected against external factors such as rust, wind, moisture, etc.
In addition to that, you also need to consider how the coating has been applied – if it has been applied via thermal spraying, welding, etc.
Choose a Larger Size If You're Not Sure of the Hole You Want to Create
If you're not sure about the hole you will create, the better way to make sure it'll work is to choose a drill bit that is about 0.4 or 0.5mm larger.
Remember, a small-diameter drill bit is limited to that size only. A larger-diameter bit, on the other hand, can be controlled and can be larger in case it doesn't fit.
Those are the best tips you can have in purchasing a wood drill bit!
Which Wood Drill Bits Manufacturer Can You Trust?
Choosing a supplier of wood drill bit is a tough thing to do. In fact, it's left out only to the best and the most experienced recruiters.
But, if you were to choose, many businesses and companies would go with Chinese wood drill bit manufacturers.
Chinese wood drill bit suppliers are trustworthy and are reliable. Many of them actually compete with quality because of their tight competition.
Therefore, quality will never be an issue!
Why Tenyu Tools Co., Ltd. is the Best Wood Drill Bits Manufacturer
Apart from having all necessary licenses and certifications, Tenyu Tools Co., Ltd. is the best wood drill bits manufacturer because of the excellence and the skill of our staff member sand people.
Moreover, we can promise to create custom wood drill bits, depending on your needs! Should you want it to be adjustable, or if you want it to be at the same size, we got you!
So, whatever type and kind of wood drill bit you require, Tenyu Tools will surely be able to accommodate.
How Fast is Tenyu Tools' Delivery Time?
The usual timeframe of delivery is within 2 to 3 weeks; and a month in total.
Thanks to our connections in the freight and the packaging industry; we'll pack and deliver your products safely and securely!
Plus, it's not going to take you 45 days, like how other companies and manufacturers have it!
Tenyu Tools Co., Ltd. as Your Wood Drill Bits Supplier
For more than a decade, we never failed any of our clients. We were able to supply them with what they needed.
You can choose from the vast catalog of our pre-made wood drill bits, or you can ask us to manufacture a custom one for you!
Over the years, we were able to gather up to 990 regular clients who ask us for the power tools and accessories they need.
From regular wood drill bits, to diamond cutters, brush cutters, and diamond bits, we can help you!
Reach out to us and get the best and the highest quality of wood drill bits at the best and the most affordable rates!
We will give you a free quotation of all the products you plan on ordering! Just send us a message and we'll do the work!