Tenyu Drill Bits Manufacurer & Supplier
Tenyu Tools knows you need good quality drill bits. We are one huge drill bits manufacturing companies, that offers an undefeated quality of drill bits. We also can supply superb standards. If you think Tenyu Tools is the most fitted manufacturer, just you are searching for a drill bits manufacturer, send us now your further inquiry.
Only need One-Stop Solution You all Drill Bits.
Guaranteed Quality & Consistent Competitive Price.
Using Professional Twist Drills Bits can Better Help You Get the Business Done.
Get Best Wholesale Drill Bits Supplier & Manufactures From Tenyu Tools
Tenyu Tools is among the best drill bit manufacturing companies in China, capable of supplying bulk drill bits wholesalers with high-quality drill bits at an affordable price. As an advanced Drill Bits Factory, we make sure to follow the latest standards during drill bit production. If you are on the lookout for wholesale drill bits, we are the best drill bits manufacturers to buy from.
There can be more than one reason for selecting the Drill bits for sale at our end. The rigorous inspection processes, combined with the efficient and precise cutting processes, ensure that you get the best for creating the best from your hands.
We make sure the clearances, thickness, helix, primary and point angles, flute land ratio, and concentricity issues are taken care of at the best. While we deploy efficient processes in our drill bits factory, we also make sure you get the cleanest products in your hands.
Tenyu Tools- Your preferred Drill Bit Manufacturer cum Supplier!
Tenyu Tools is a leading manufacturer and supplier of wholesale drill bits. We tend to offer you the best in terms of quality and affordability. We can manufacture different varieties of drill bits for our clients.
The orders can be customized for the use of the material and the machining processes you want us to include. We can manufacture and supply Drill bits for metal drilling like Extra Long Drill Bits, Twist Double-Sided Drill Bits, HSS Metal Extra Long Drill Bits, Straight Shank Double Ended Metal Drill bits, HSS Double Ended Drill bits, HSS reduced shank Turbo Max Twist Drill bits, Bright Surface HSS Drill Bits, Fully Ground Drill bits, Black and Gold HSS Twist Drill Bits, and many more.
We are among ISO 9001 certified drill bit manufacturing companies and control the machining processes effectively to come up with the most efficiently performing drill bits of all time. All of our products go through rigorous inspection, testing, and quality check processes so our clients like you can have the best product in hand.
Whatever your requirements are, we have got the best for you!
While you may find it hard to find a reliable and trustworthy drill bit manufacturer and bulk drill bits wholesalers, we at Tenyu Tools are the one for you. The trust that our clients entrust upon us stands testament to this statement.
Our team has a proven track record of producing high-quality drill bits consistently. This reflects our passion for understanding our client's needs and requirements and providing them with the most-suited solution. This in turn helps them further serve their customers and delight them. This gives rise to a whole chain of quality.
If you are looking for a potential drill bit supplier or drill bits manufacturers, you can reach out to our team to have a look at the impressive portfolio of services that have been curated only for your convenience. The Drill bits for sale on our end meet all industry standards and comply with the latest regulatory norms.
Send inquiry now! we can reply in 24hours!
Drill Bits Manufacture Machine
Drill Bits Types Manufacture From Tenyu Tools
High-speed-steel drill bit is ideal for drill into metal, of course also can drill plastic.
Metal drill bits cut metal with ease, it can drill a clean hole.
Cobalt drill bits can drill in the different kinds of hard materials, such as stainless steel.
One step drill bit can cut holes of various diameters, it will enlarge holes when drilling.
Center Drill Bit can drill on many materials, when it is drilling, the drill bit will not be greatly offset.
Drill Bit Adapter have different uses in different drill bits.
Taper Shank Drill Bit can cut the cast iron, copper and aluminum.
The Ultimate FAQ —Drill Bits
Choosing a drill bit manufacturer is a task that is often left to experienced recruiters.
Because of the market's saturation, it's hard – almost impossible to land on a high quality drill bit supplier.
Luckily for you, we've assembled a comprehensive guide on how you can locate and successfully work with the best drill bit manufacturers for both wholesale and retail!
What is a Drill Bit?
A Drill Bit is a cutting tool that is used to create cylindrical holes in solids like metals and wooden planks. Drill bits are held in drill machines and used with torque which creates holes in them.
Why are Drill Bits used?
Drill Bits are cutting tools, it can be used in conjunction with drilling machines to create holes in the solid materials for applications in construction or production of different mechanical parts. Drill Bits are now widely used in manufacturing as well as the construction industry for different applications.
What are the two main types of drill bits?
Drill bits that are currently available in the market are categorized into two types. Rolling cutter bits and fixed cutter bits are two of them. The sizes for these drill bits can be anywhere between 3-⅞ inch to 36 inches.
Rolling Cutter Bits
Rolling cutter bits may also be called roller cone bits or tri-cone bits. Tricone bits in general have three cones. Each cone in this drill bit is individually rotatable with the use of roller bearings which are fitted at the time of their first assembly. These drill bits can be used to drill multiple formations, provided a proper cutter, bearing, and nozzle combination is available.
Rolling cutter bits can further be classified into the following types:
Milled-Tooth Bits
Tungsten Carbide Insert Bits
Milled Tooth Bits
Milled Tooth Bits have steel tooth cutters. These cutters are fabricated as parts of the bit cone. The bits cut and make formations out when a torque is applied. Teeth on this drill bit may vary in size and shape. The formation of teeth can be soft or hard.
● Soft Formation
Teeth in these drill bits are long, slender, and widely spaced. These teeth with soft formations will produce freshly broken cuttings or chips from soft formations.
● Hard Formation
The teeth in these drill bits are short and closely spaced. Drill bits with these types of formation can be used to produce smaller, ground, round, and crushed cuttings.
Tungsten Carbide Insert Bits
As the name suggests, these types of drill bits have tungsten carbide inserts that are pressed into the bit cones. These inserts can have several shapes including long-extended shapes, round-shaped inserts, and more. The teeth on this bit are also different, based on their formations.
● Soft Formation
These types of insert bits have long-extension and chisel shape inserts.
● Hard Formation
Drill bits with short extensions and rounded inserts have hard formations.
Fixed Cutter Bits
The fixed cutter bits have integrated bit bodies and cutting elements. These bits are employed to excavate holes on the surface using shearing forces instead of using chipping off or gouging out formations. The functioning of these cutter bits is like rolling cutter bits.
With no moving parts such as cones and bearings, these bits are made out of bit bodies fabricated using a steel and tungsten carbide matrix. These bits also have abrasion-resistant cutters integrated which the surface which aid in the cutting operation. A majority of bits available in the market are composed of Polycrystalline Diamond or Natural/ Synthetic Diamond Cutters.
With improvements being carried out in the cutter bit technology, PDC bits are capable of drilling both soft and hard formations. However, care has to be taken when selecting drill bits on very hard formations. You might need to use diamond bits if required.
How to choose the best wholesale Drill Bits?
Though finding the best wholesale drill bits is trickier to find, you can trust the team at our end for your choice of the drill bits. If you are looking to select the one that will suit you the best, there is a need for you to get acquainted with the same.
We'll first discuss the kinds of drill bits that we have in the market.
Wood Drill Bits
If you are looking to purchase the best wooden drill bits, make sure to check for the small pointed tip at the very end of the drill bit. If you observe closely, you can see spurs on each side. These spurs are responsible to hold the wood in place and carve the same away.
To select the best, make sure you have all these things checked closely by your quality or inspection team.

Masonry Drill Bits
Selecting the best Masonry drill bit requires you to check the gentle sloping tip at the end of the drill bit. Sometimes, the tip of masonry bits can come coated with carbide. This helps retain their sharpness. Masonry Drill Bits work the best with stone and cinder blocks. Also, they work well with tiles as well.
While purchasing the same, look out for these properties so as to select the best for yourself.
Metal Drill Bits
Metal Drill BIts are required to be sharp so as to withstand greater amounts of abrasion forces. These drill bits come with a wide-angled point on one end and are painted in black most of the time. If you are planning to buy new ones, make sure you check the label with the name high-speed steel or HSS printed on it. Metal Drill Bits can be highly versatile and offer more toughness with titanium and cobalt coating. Steel metal Drill Bits can easily drill through soft aluminum whereas to drill through harder metal types, high-speed steel will be required.
Who are the best bulk drill bits wholesalers in the market?
There is a multitude of options in the market when it comes to selecting the best bulk drill bits in the market. However, if you are looking for the best quality drill bits in the market, those from Tenyu Tools China are your go-to.
Send inquiry now! we can reply in 24hours!
What are the possible reasons for a drill bit to break?
There can be more than one reason for the drill bit to break. Possible reasons for a drill bit to break can be too much stress. If the drill bit is not correctly aligned on the spindle, it may cause it to tumble and wobble. Adding to that, if you are applying torque to it in such a situation, it may produce combined stresses. If chips are caused due to the cutting of the metal clog with the drill bit, the additional stress on the bit may cause breakage.
In the second case, if you are using a hand drill, there is a good chance that bending stress combined with unmanaged and uncontrolled torsional force may introduce shearing in the drill bit.
Finally, the compressive stresses built up in the shank may also cause the drill bit to twist and eventually break.
All these different stresses combine to generate a peak principle stress. This peak principle stress when in combination with the rotational force may transform from the compressive load to a tensile force. These stress reversals are the most common reasons why drill bits break apart.
One more reason for the drill bit to break can be that the drill bit material is worn out and fatigued.
What are the different types of drill bits available in the market?
There is a wide variety of drill bits available in the market today. And selecting the right kind of drill bit can help you get dine with your job easily. A majority of drill bits manufacturers nowadays have expanded their portfolio in supplying users with these types of drill bits. Some of the commonly known drill bit types are:
Twist Drill Bits,
Masonry Drill Bits,
SDS Drill Bits,
Universal Drill Bits,
Lip and Spur Drill Bits,
Countersink Drill Bits,
Titanium Drill Bits,
Flat Bits Drill Bits,
Augers Drill Bits,
Hex Drill Bits,
Core Drill Bits,
Multi Angle Drill Bits,
Pointed Flat Drill Bits,
Adjustable Drill Bits,
Screw Tip Flat Drill Bits,
Hinge Sinkers,
Tile and Glass Drill Bits,
Forstner Drill Bits, and many more.
Twist Drill Bits
These types of bits consist of angles that are suitable for steel-drilling purposes. These bits can drill through a wide range of material types, however, not at ideal performance.
Masonry Drill Bits
These types of drill bits have a piece of Tungsten Carbide welded or brazed onto the tip. They are also known as TCT Drill bits, TCT expands to Tungsten Carbide-Tipped. They can be identified easily as the tip is comparatively wider than the shank dia. This tip remains blunt in most cases.
SDS Drill Bits
These types of drill bits are employed to cut concrete and engineering bricks. The bits have a shank which fits into the chuck of the drilling machine. They also have a quick-change locking mechanism instead of the twist grip from the conventional drills.
Universal Drill Bits
Like MAsonry drill bits, these drill bits also have a Tungsten Carbide tip, however, this tip is sharpened or edged. This is done so that the drill bit can easily drill across timber and mild steel.
Lip and Spur Drill Bits
These types of Drill Bits are also known as Dowel Drills. With a central point and two cutting edges angled in an opposite direction, these drill bits can stay centered in wood while cutting it faster and using less energy.
Countersink Drill Bits
A countersink drill bit is capable of drilling a shallow recess for a screw head to fit in. Despite its size, the countersink drill bit can outlast carbon steel many times.
Titanium or TiN Drill Bits
These drill bits come coated with superhard titanium nitride coating. This actually makes them stay sharper for longer. This coating helps reduce frictional wear and tear. Some other titanium compounds can also be used to coat the bits. These can be TiAIN and TiCN. TiAIN lasts 5 times longer than HSS.
Flat Drill Bits
These types of drill bits are low cost and low-performance drill bits and form rough holes during wood drilling. The low cost makes them an ideal accessory for drilling large holes.
Augers Drill Bits
These kinds of drill bits are low-speed high-torque drill bits used to drill wood. These bits are known to produce cleaner holes than most other drills.
All other types of drill bits shared above are only different according to the type of use and the building material. To learn more about the kind of drill bit you are selecting you can always check with your drill bits manufacturers.
The Best Drill Bit Suppliers in the Market?
You will find a ton of drill bit manufacturing companies; but how do you weight which the best one is?
Today, the following drill bit manufacturers are considered as the most recommended:
DeWALT
COMOWARE
Irwin
Makita
Drill America
Milwaukee
Bosch
And many more!
You'll know these names if you've been following the world of drill bits and power tools.
Moreover, you must also know the main downside of choosing to work with these drill bit suppliers – they're expensive and more often than not, it's going to be a challenge to strike a deal with them.
Nevertheless, they're the top manufacturing companies of drill bits and other tools and accessories.
Qualities of Drill Bit Manufacturers to Look For?
Choosing a manufacturing partner – especially if it's wholesale drill bits – is crucial.

Saying yes to a manufacturer means that you're accepting all of their capabilities.
With that in mind, what qualities of drill bit manufacturing companies should you always have an eye on?
Expertise and Capabilities
Their ability to supply you with what you need should be your priority. Imagine being given low-quality drill bits – and you orders 10,000 pieces – would you be pleased?
Try and find out these drill bit suppliers' capabilities – do they provide OEM or ODM products? Are they capable of manufacturing custom drill bits based on your needs? Would they be able to deliver in time?
The answer to these questions can serve as the foundation of whether or not a drill bit supplier is worth spending time with.
History and Track Record
So a manufacturer answered yes to the question above – what's the next step?
The next step, simply is, figuring out whether or not they're true to their word.
Have a glance at their track record and history – are they telling the truth about their skill and expertise? Do clients work and come back to them again?
Client retention is one of the fewest, but most effective ways of determining if a manufacturer will cross rivers for you.
Their record will dictate and give you insight as to how effective and efficient their products and services are.
Rates and Prices
A lot of businesses never consider pricing, especially if they're looking for quality.
However, prices and rates can tell you a lot about how efficient and how effective a certain manufacturer is.
Find out about the median or the general rates of the products you are about to purchase. Prices that are too good to be true, almost always end up being too much of a fantasy.
Prices that are over-the-roof, on the other hand, might have alternatives that have cheaper and more affordable costs.
Try to find the balance between them, but never compromise quality.
Factory and Manufacturing Plant
A lot of these manufacturers would be open to their drill bits factory.
Their thinking is that being transparent with their manufacturing plant can help them gain more clients – and that is true!
Whenever you are to choose between one drill bit supplier from another, it is rather imperative to take a look at their drill bits factory first.
How they work will tell you a lot about the quality of their products.
Communication Skills
In any aspect of life, communication is key. It's key to a good relationship, growth, and overall – success.
You may work with the best, the cheapest, and the most skilled manufacturer, but if they fail at communication, you lose a lot, too.
Finding a manufacturer that consistently checks upon you; a manufacturer that always considers you as their first-time client is usually the best.
Would you want to have a business partner that neglects cooperation?
Those are just some of the things you'd want to always have your eyes on, especially if you need bulk drill bits from wholesalers.
Why Choose Chinese Wholesale Drill Bits?
There's a reason why companies and businesses from the west choose Chinese wholesale drill bit suppliers.
Other than the price, they know that drill bit manufacturing competition in China is no joke.
In fact, we can look at it this way – if a region in the U.S. has about 15 drill bit manufacturing companies, China would have about 30 to 50 of those drill bit suppliers – that is how tough competition is.
So what would these drill bit manufacturing companies do for them to get the "golden" sale? They will:
Improve their procedures and manufacturing processes
Try to lower the costs for clients – they give high discounts
Improve and enhance their drill bit factories to showcase to their clients
Become lenient when it comes to MOQs
Expand and develop their offers, such as wholesale drill bit discounts, etc.
Add more to what they're already offering
Choosing China bulk drill bits from wholesalers would be the best decision you'll ever make.
Where Can You Purchase Bulk Drill Bits?
There are a lot of drill suppliers in the market that offer wholesale drill bits.
If you want a fair price, going with a Chinese drill bit manufacturing company is key.
We say this not just because of pricing, but also because of the quality these drill bit suppliers can assure you.
Most, if not all Chinese bulk drill bits wholesalers would offer you free samples; and they'll often deliver it as fast and as high quality as possible.
Why It's Important to Background Check Drill Bits Manufacturing Companies First
Checking the track record, history, and background of Chinese drill bit manufacturing companies is a significant move before going with one.

In essence, their history would reflect the current stature of their products and services.
One good example is to see and talk with some businesses that worked with them. Ask them about how effective and efficient their products and services are; ask them how the package or the orders were delivered; etc.
You can observe and check the quality of work by a manufacturing company by checking out reviews, feedback, talking to previous clients, etc.
How Do They Drill Bit Suppliers Perform in a Drill Bits Factory?
Do you have any idea how drill bit factories look like?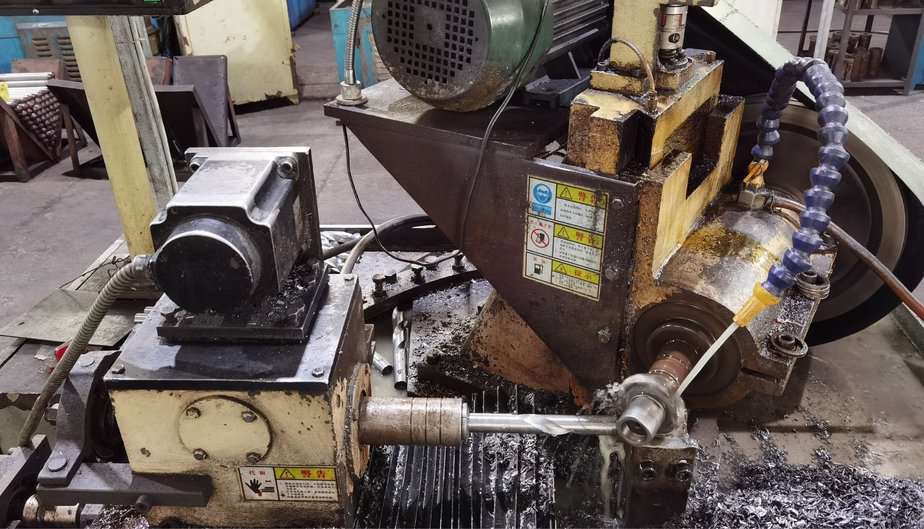 For you to understand better, you need to know what's happening behind the curtains.  
Drill bits are from raw materials, the most common of which are coiled steel
They're cut off depending on the size of the drill bit; it's also in this process where the coils are hardened and straightened
The straightened and cut coil are treated in heat, hardening the steel even more
They're then cleaned to get rid of whatever debris has been left
Next, they run through a flute machine where large portions of the steel are cut off and removed. This is the process that makes and creates the shape and the physicality of the bit
Then, they run through a machine where the point is finished, as well as the angle of the drill
Lastly, the split pointing procedure creates the secondary cutting edge, ensuring that the bit wouldn't move or "walk" during usage
Depending on the type of drill bit, the tails are either reduced or flattened
From there, observations and final checking is done; this is important as they dictate whether or not the products would leave the drill bit factory for packaging and distribution
That's the general procedure of how a drill bit is manufactured and made.
Different manufacturers might have different approaches, but is the general outline of how they are made.
Are There MoQs in Purchasing From Drill Bit Manufacturers?
Yes, most, if not all drill bit manufacturing companies have a minimum order quantity or MoQ.
Having an MoQ helps in controlling the amount of production in drill bit factories. Moreover, it's also one way of ensuring the stocks for clients.
What's the Usual Timeframe in Delivering Wholesale Drill Bits?
This will depend on the drill bit manufacturer and their connections when it comes to shipping and delivery.
There are some bulk drill bit wholesalers that manufacture and deliver drill bits in just a month, while there are those that take a month and a half to complete it.
Therefore, it would be wise to ask them about the shipping first so you don't get in trouble if it doesn't come at the time you're expecting it to.
Is it Worth it to Buy Bulk Drill Bits From Wholesalers?
Yes, purchasing bulk drill bits from wholesale drill bit suppliers is something you always need to consider.
You should consider them not only because of their low price, but also because of the fact that you wouldn't have any problems with stocks.
Many businesses today are biting offers, even if they're expensive, because of the fact that the drill bit manufacturers they speak with have the exact tools they need.
Furthermore, drill bit manufacturers today are finding it challenging to find stocks for their business.
The reason for these dilemmas include:
Large competition;
ODM and OEM products from competitors
Raw material unavailability
And other reasons
That's why it's worth purchasing wholesale bulk drill bits from drill bit wholesalers and suppliers!
You'll never feel the need to find a different drill bits factory for sourcing if you think one step ahead!
Why Tenyu Tools Co., Ltd. Should be Your Go-To Drill Bits Supplier
Tenyu Tools Co., Ltd. is the country's most trusted and most relied on drill bit manufacturing company.
We've been the best and the most sought after wholesale drill bits manufacturer in the country for over a decade.
You can freely choose to have a view of our drill bits factory via our online platform – and you can assess the quality of our performance and products from there!
You can trust us whether you need a set of pre-made drill bits, or if you're yearning for a custom made one.
The same as how our other 990+ clients have, you can trust us here at Tenyu Tools Co., Ltd. – you can even consider us as your primary option if you need wholesale drill bits!
You will never regret your choice of choosing us to be your primary drill bits supplier! Contact us and get a free estimate of the drill bits that you need!
How to preserve the life of a drill bit?
If you ask the people at drill bit manufacturing companies, they will tell you that getting the most out of your drill bit is totally based on how you use it. If you are using the wrong type of drill bit on the wrong type of surface, the drill bit is likely to malfunction. Well, here are some tips you can follow to make sure your drill bit lasts long enough:
Select the right bit for the right rock hardness
Use adequate drilling fluid additives
Use a higher crown matrix configuration
Amend your drilling technique
Send inquiry now! we can reply in 24hours!